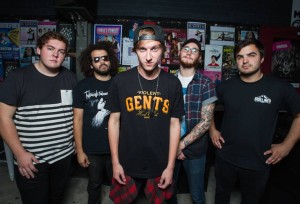 State Champs has dropped two new acoustic tracks ahead of their new EP State Champs Unplugged, due out on August 14th via Pure Noise Records.
In celebration of the band's 10 year anniversary, the New York based band's new effort is much more than just reimagining songs. Featuring new songs and a reworking of fan favorite "Criminal" and a surprising take on "Dead and Gone," fans of the group are in for a treat. Talking about why the EP is such a special release, frontman Dereck DiScanio says, "The Unplugged EP is special for us for many reasons, one main reason being the writing process. We feel like we really went back to our roots, you know, just the band, in a room with an acoustic guitar, writing songs and having fun," shared DiScanio on the upcoming EP. "We tend to execute our best material in an environment that is stress free and organic. Our fans have been asking for new acoustic, stripped down material for quite some time, we're happy to say it's here."
The band last release a full length album Living Proof in 2018.