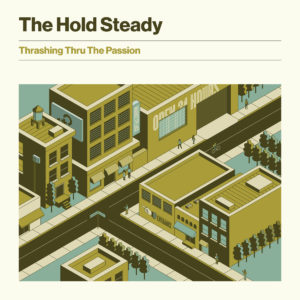 After moving from Minneapolis to New York City in 2000, guitarist and ex-front man of Lifter Puller, Craig Finn wanted to create a band that captured the sounds of groups such as The Replacements and the Grifters. Almost 20 years later, Finn and his band The Hold Steady have managed to maintain their hip indie rock sound, even while Finn has taken a step back to work on music of his own with the trilogy series Clear Heart Full Eyes in 2010.
Releasing their new album Thrashing Thru the Passion today, The Hold Steady continues their smooth, cool brand of indie rock alongside some real bangers. Opening with "Denver Haircut," the group continues their bouncy style that fans will continue to latch on to. Working with producer Josh Kaufman, the band wanted to have fun, which to them was the most important thing in the recording process, and on "Denver Haircut" this importance shines through. With themes of happiness, disillusionment, death, destruction, and hope for redemption, Thrashing Thru The Passion captures the The Hold Steady attitude that have kept them at the forefront of the independent music scene for so long.
Tracks such as "You Did Good Kid" focus on dealing with drudgery, though they bring some sunshine to it by sticking a brass section on the track, sure to make it not only a favorite to the band, as they mentioned in an interview for Rolling Stone, but for fans as well. "Traditional Village" keeps this upbeat pace going and highlights the skills of returning keyboardist Franz Nicolay, who left the band in 2012.
"Confusion in the Marketplace" closes out Thrashing Thru the Passion, as a mid-tempo track that brings the dial down just a bit, though it still has the band's energy bursting at the seams. While there are times that the audience won't like something about a record, that can't be said for Thrashing Thru The Passion. Consistently vibrant and keeping in line with the vision the band has for their music, Passion is a record that Hold Steady fans will fall head over heels for, while the rest of their audience will find a new band to keep spinning again and again.
Listen to "You Did Good Kid" below.