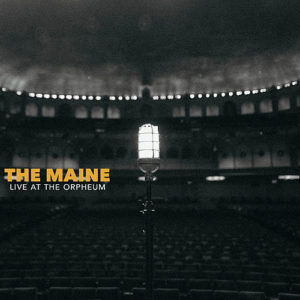 Forming in 2007, Arizona rock band The Maine become more ambitious with each passing year. Dropping their debut Can't Stop, Won't Stop in 2008, the group released a punchy pop punk album that was very much a product of its time – long hair, skinny jeans, and an album that would appeal to high school kids everywhere. As the group matured and grew more comfortable in their own skin, they would end up ditching their record label and going off entirely on their own, fed up with trying to navigate an increasingly corporate music industry, more focused on sales than originality. Releasing their latest album, You Are OK, earlier this year, The Maine have dropped a surprise live EP Live at The Orpheum, in the band's hometown of Phoenix. While live EP's certainly aren't unique, Live at the Orpheum is, due to only performing in front of one fan, who the band personally invited out to witness the performance. Stripping back some of their most beloved tracks alongside fresh new cuts, The Maine are truly at their best when giving a bare bones performance.
Opening with "Slip The Noose" from You Are OK, the band brought the record to life, as they were able to hire a full string section for the performance, making the listening experience more impactful and deeply intimate, something the group's fans have yet experience properly in a live setting. Fans got a taste of the recording several months back, when the band shared the standalone single "Without Me," a Halsey cover. While front man John O'Callaghan's voice has always had a raw and emotional tone, on "Without Me" listeners get a chance to hear just how unique it actually is.
"Broken Parts" is up next, also on You Are OK. Featuring strings again, you get to hear every note that each member plays, a beautiful sound to hear without a crowd drowning out the music. You can tell the band is entirely content doing this entirely on their own. Everything feels right, and everything makes sense.
Closing with You Are OK's longest track "Flowers on The Grave" at nearly 10 minutes long, the band has a real talent and shine for performing live, a trait that keeps fans coming back tour after tour. While Live at The Orpheum features a performance that is few and far between for any band, The Maine need to continue doing these types of things in order to keep their audience enticed, making their fans love them even more.