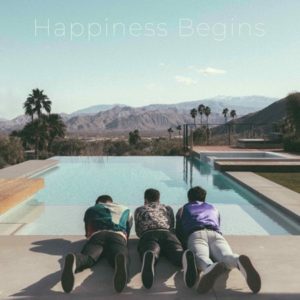 So much good music, so little time to listen to it all. If you've been reading Listen Here Reviews for a while, you'll be familiar with our yearly best of list. Written with no particular order in mind, here's the records and singles we've been playing heavily this year. It's the music we loved and couldn't get enough of.
Favorite Records
Jonas Brothers – Happiness Begins
If you are old enough to remember the Jonas Brothers taking over the Disney Channel back in the mid 2000's, you remember their rise and their fall. Reuniting in 2012 for a concert at Radio City Music Hall, they played a great show, revitalizing their place in the teenage music fandom while proving to their critics that they were worth watching. A short time later and the release of few lackluster singles, the trio of brothers from New Jersey disbanded for good, or so fans thought. With youngest brother Nick introducing fans to what ended up being a decent solo career and middle brother Joe crushing it with his funk rock band DNCE, it seemed that the Jonas Brothers as a group would never reunite again. That is, until March of this year when the group released their smash hit "Sucker," released their banger of an album Happiness Begins, and announced a tour that would go on to sell over a million tickets and garner rave reviews.
The thing that most appeals about Happiness Begins is its listenability. It's catchy, funky, and unlike anything the brothers have ever released before. Gone are youngest brother Nick's puberty soaked squeaky vocals and the childish lyrics, replaced with something that feels confident and dripping in gratitude that their fanbase is still holding tightly to them nearly 14 years into their career. With tracks such as "Only Human" "Used to Be" and "Don't Throw It Away," happiness does truly begin.
Harry Styles – Fine Line
While One Direction have been quiet over the past few years due to their hiatus, their members are all currently on fire. While each member has released solo music at different points in time during their break, 2019 was the year where they all released music and announced tours very close together, driving fans into a tizzy. While they all have released interesting songs, it is their unofficial front man Harry Styles who has perhaps produced what you could call a masterpiece with his second solo effort Fine Line. Bathed in 70's nostalgia, the British 25 year old spent nearly a month wandering around Japan listening to Joni Mitchell's Blue, all while drawing inspiration for his new album. A breakup with French model Camille Rowe is at the forefront of this LP as well, as fans get a taste of her voice on the gorgeous track "Cherry." Everything on Fine Line works out beautifully and Styles is setting himself up to be one of the few younger artists to still be around in 20 years. Dropping on December 13th, it became not only the best-selling album of the year, despite its late release, but its set to debut as one of the first bestselling albums of the new decade.
Favorite Singles
Niall Horan – Put A Little Love on Me/Nice to Meet Ya:
Introducing fans to his new music was an easy task for Niall Horan as he put out "Nice to Meet Ya," an Oasis inspired bop and "Put A Little Love On Me," a piano ballad possibly inspired by his brief relationship with actress Hailee Steinfeld. Both tracks point towards a new direction and steering clear of the folk inspired moments fans found on his 2017 debut Flicker. This new era is less about Fleetwood Mac and jamming to "Dreams" than it is catching up to the more modern sounds of 2019.
Ed Sheeran – Beautiful People (featuring Khalid:)
Releasing his first collaborations project as a small time artist in England back in 2011, Ed Sheeran didn't have much choice in who he wanted to collaborate with except the underground hip hop scene of England, though this time he treats fans to a wide range of artists and collaborations on No.6 Collaborations Project, released earlier this year. Singing alongside artists such as Justin Bieber and Camila Cabello, Sheeran has been trashed an artist who now cares more about hits than producing good music, however if you know anything about Sheeran, it's always been about going as a big as possible, while still remaining humble. Sheeran is now bigger than ever, but he sounds great doing it. The opening track "Beautiful People" seems a bit shallow lyric wise, however musically the track glows in every way. You wouldn't normally put the deep vocals of Khalid and crisp sound of Sheeran together, however "Beautiful People" ticks all the boxes of a most played track.
Andy Grammar – Don't Give Up on Me (Five Feet Apart Soundtrack:)
Naming "Don't Give Up on Me" as the title track of the movie soundtrack for the film Five Feet Apart, describes not only the movie, but the emotions that go along with it. Focusing on two teenagers with cystic fibrosis who try to have a relationship without being able to touch, the film will pull at the heartstrings regardless of your familiarity with cystic fibrosis or your age. Director Justin Baldoni does an excellent job at bringing music to the center of the story and "Don't Give Up on Me" demonstrates this. Sung by Baldoni's good friend Andy Grammar, "Don't Give Up on Me", will no doubt one of the singer's most popular songs not only for its appeal but for its memorability.
Shawn Mendes and Camila Cabello – "Senorita"
Perhaps the fieriest track of the year, vocalists Shawn Mendes and Camila Cabello released their second collaborative track and to say it took off like wildfire would be an understatement. Racking up billions of streams and a real-life romance for Mendes and Cabello (which had been years in the making,) the track no doubt resonated with people and make teenage girls scream at the steamy scenes throughout the video. While neither Mendes or Cabello have stated when they will collaborate next, their relationship is definitely not a publicity stunt.
Dan And Shay (Featuring Justin Bieber) – "10,000 Hours":
Perhaps in what will become the ultimate wedding song of the next decade, acoustic duo Dan And Shay teamed up with Justin Bieber to write a track that became on of the softer hits of the year. While Dan and Shay have had a few modest hits throughout their short career, collaborating with Bieber pretty much sealed the deal for getting their name out to a wider audience. All three vocalists sound great together, and Bieber finally feels like the adult artist he was meant to be.
The Maine – "Without Me" (Halsey cover)
Over the course of their 13 year career, rising from the ashes of Myspace, Arizona rock group The Maine have continued to be underrated throughout the music industry. With the release of their album You Are OK this year, the band grew to be more ambitious, pushing the envelope both musically and creatively. Wanting to release a new EP, the band rented out The Orpheum Theatre in their hometown of Phoenix, hired a string section, and invited one lone fan to witness the whole performance. Naming the EP The Maine Live at The Orpheum Theater, the band is truly at their best, and their cover of the Halsey track nails it. While the band can certainly turn it up a notch during live shows, it is acoustic performances where they shine, and the beauty of "Without Me" proves The Maine can switch things up without sounding stale.