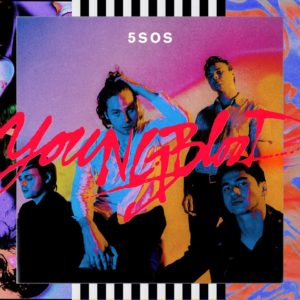 Forming in 2011 in Sydney, Australia, 5 Seconds of Summer had a meteoric rise to fame, finding them opening for One Direction two years after forming. The then teenage band was a hit with young girls and released their debut self-titled effort in 2014, a pop punk album that brought the dying genre to a new generation. Releasing Sounds Good Feels Good in 2016, the quartet went more rock, stripping themselves of the sound they had before, declaring that guitars were officially back in style. Now with their new album Youngblood, the band is in their early to mid-20's, and back with a new style.
Tackling more 80's tastes, the band says in interviews that the new sound is exactly where they should be at this point in their career. While performing 80's music is currently a trend in the mainstream music scene, for 5 Seconds of Summer it feels like uncharted territory, even as it feels a bit flat as we move into the album. Though after a few listens, it ends up suiting them well.
Opening with the title track, the foot stomping anthem feels mild at first as it is rounded out by finger snapping, but once bassist Calum Hood and drummer Ashton Irwin push through Luke Hemming's haunting vocals, "Youngblood" is a fitting introduction to 5SOS's next effort, since it sounds nothing they have put out before. "Want You Back," is the record's lead single, and the strongest tune on Youngblood. From the piano intro to the airy chorus, we know immediately that 5 Seconds of Summer are no longer the fresh-faced teenagers that we discovered five years ago. They have become men, who have found a secure place to land when navigating the next path in their career.
Tracks such as "Talk Fast," are a complete turnaround, sounding like something off a Talking Heads record, with synths taking the stage front and center. With Irwin experimenting with a beat that screams simplicity, on Youngblood we rarely experience the skill he brought to the drum kit as we did on their first two efforts. Though what we can feel is his creativity throughout the album, making Irwin an up and coming songwriter to watch.
Tunes such as "Ghost of You" is the one acoustic track on the record and one we've been waiting for. Always writing strong ballads, we were struck at first that the group failed to include any ballads on Youngblood but "Ghost of You" becomes one of the record's strongest assets and its disappointing that its only included on the deluxe version of the LP.
Closing with "Babylon," this last song feels like something you would find on the radio, with wailing guitars and a chorus that soars, as Hood shows off his nasally vocals, something we've missed on this LP as Hemmings takes over most of the singing duties.
On their third effort, it's clear that 5 Seconds of Summer are growing up and evolving steadily into the band they want to be. While they may never be the biggest act in the world, they try their best on Youngblood to be your favorite.
Watch the "Want You Back" music video below.