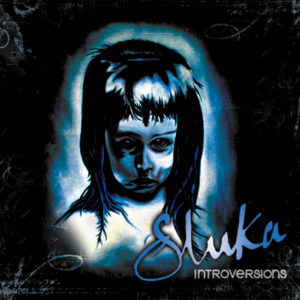 Recording ten albums throughout his career, San Diego singer-songwriter Christopher Sluka has released his latest body of work titled Introversions, a goth-rock album that takes influences from acts such as Culture Club and The Cure to create his own style of music. Always ambitious in his creative endeavors, Sluka has not only released an album for Introversions, but he has also decided to release a Blu-Ray collection of 13 music videos for each song on the record to be released in November of this year.
Opening Introversions is the slow track "Valentine Lies," with Sluka taking on a vocal style that sounds similar to Boy George and an 80's influence. Feeling incredibly expansive, "Valentine" sets up the rest of the album with its eerie scope giving the record a unique tone.
Heading into a more upbeat style, we hear the track "Beautiful," a tune with scattering drums and an infectious sound proving that Sluka can play in a variety of time signatures without sounding disjointed. "Fear of Ordinary Life" is one of the records shortest numbers and its classical style adds another dimension to Sluka's multifaceted songs, and after listening to him switch from one style to another on Introversions, we now know why his fan base has been able to spread itself across several continents. Beautifully written and performed, Sluka is a talented musician who knows how to grab hold of his audience and give them music that will be relevant for a lifetime.
"Sadder Than Sad" has more of a pop angle and would a good single on pop radio as its radio ready sound will introduce Sluka to more mainstream audiences outside of the gothic rock and 80's genres, making his songs more widespread.
To close out Introversions, Sluka has chosen to close out the record with the tune "Gothic Cavalier," a track that intertwines all of the records styles into one, making it a great end to a varied LP that will find a wide range of new fans for Sluka to charm, and we are confident that his music will be around for many years to come.
Listen to "Sadder Than Sad" below.