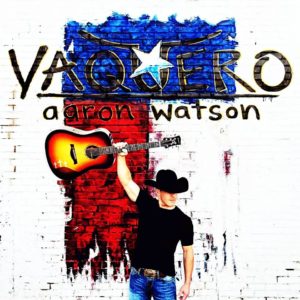 Throughout his 17-year career, Amarillo, Texas country musician Aaron Watson has written songs that stick in your heart, and his latest effort Vaquero does that and more. The follow up to his 2015 record The Underdog, Watson is still working his way up the country music ladder, though he has had some success on the Billboard charts as he made it to number one on the Country Music charts with The Underdog, a first-time achievement for an unknown artist.  Opening with the song "Texas Lullaby," we not only hear the country stylings of the genre's original sound, but also pockets of the pop influenced style that is currently popular on country radio.
With crisp and clear vocals, Watson bares his soul for all to hear, bringing an honesty that longtime fans will love. Full of rich stories from start to finish, Vaquero is an enjoyable record that remains consistently fresh for its entire run time. "They Don't Make Em Like They Used To" is a simple track that includes gorgeous strings and a catchy banjo, and as Watson tells a tale of good times gone by while longing for something simpler, the song will become a fan favorite and one of Watson's most popular tunes.
"Run Wild Horses" begins with a country infused riff that makes sure Watson's audience is paying attention. On this track, his vocals provide listeners with a bit of a raspy sound that represents the hard work that Watson has put into the record. "One Two Step at A Time," is a track perfect for a performance in an old Texas dance hall, as it brings fans closer to Watson and his passion, while also demonstrating that he is the real deal when it comes to country music.
Towards the end of Vaquero, we hear a song titled "The Arrow," an acoustic number that is beautifully done with a guitar part that brings emotion to the forefront. To close out the LP, Watson leaves us with "Diamonds and Daughters," about a father experiencing his daughter's wedding day. With every song on Vaquero feeling relatable and true, Watson knows how to write a song that pulls at the heartstrings of fans, while not losing his authenticity that he has worked so hard to keep.
Listen to "The Arrow" below.