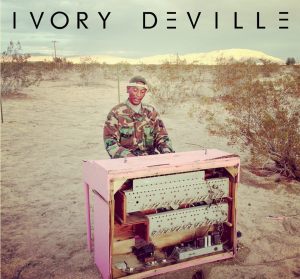 Ivory Deville is not your average California band. The Los Angeles based group doesn't have the light and breezy sound that is associated with many southern California bands, and while their sound isn't typical, it works in their favor. Instead of a band that inspires us to ride the waves, Ivory Deville urges us to drive to the American South with their take on blues, Americana, and southern inspired rock and roll. Sounding like music for the older generations, the warm tones of their self-titled debut album isn't something that you would hear on the radio, but it is apparent from the relaxed vibe of the record that Ivory Deville could care less where their music fits.
The record opens with "Tattered" an old sounding tune that features a talented lineup of musicians. The aspect of the album that stands out right from the start is the vocals. While the band is made up of mostly male members, the group also includes two female vocalists, giving Ivory Deville a slight gospel feel throughout the record. The track also has a simplicity that may remind listeners of Buddy Holly, with their simple but snazzy guitar riffs that their audience will remember. The album's next track, "Dance Hall" is an old fashioned country tune that pays tribute to the genre's beginnings. Conjuring up visions of a performance in an old dancehall, this country song will be an instant hit for country purists who aren't interested in the modern, pop inspired vibe of the current Nashville country scene.
"Starline Blues" is a track that appears in the middle of the record, and while we are aware that the band is obviously inspired by the blues genre, the song is not as gripping as the records previous tracks, which is a minor letdown given the majority of the records catchy feel. Including it as a bonus track might have been a better choice than including it on the actual album, as it kills the records energetic vibe that we don't want to stop experiencing. Lastly, we have "El Passo" a beautiful and haunting track where we really get a taste of the bands vocal ability. When the entire band comes together to form a chorus of voices, we get this echoing feel that provides a nice touch to the rougher foundation of the band's music. The a cappella track also adds a mellow feel to the simple performance style that the band conveys beautifully on their debut EP.
Ivory Deville are setting themselves up for much success with their first album. While many bands set out to find their footing with their first release, Ivory Deville have their feet planted firmly on the ground, and we can't wait to see what they come up with next.
If you would like to buy the album, you can do so here.
You can listen to their single "Drainpipe" below.