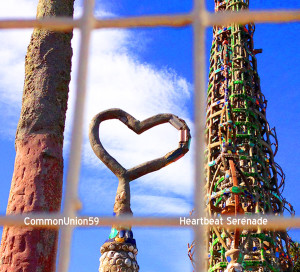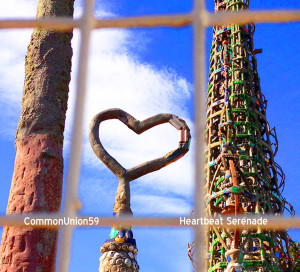 When one heads to San Francisco, the fog and cold weather are two things that stick out the most when one names the cities many characteristics. And while the city once had a thriving music scene that included artists such as Janis Joplin and The Grateful Dead, the music scene of today is nearly nonexistent. With that said, the city has a well kept secret in the form of a band named CommonUnion59, a songwriting duo that includes Stephen McKenzie, Laura Malasig, and their various backing musicians. They have put together a pop orientated, Brandie Carlile inspired blend of music in an album called Heartbeat Serenade which is the perfect soundtrack to fight the cold. Aside from Heartbeat Serenade, they have also released a record called Magnolia Waltz, their debut.
The album opens with "It's Alright" a pop tune that contains hints of country music, though any traces of trying to sound like a true country band are absent. The duo's songwriting is simple, as well as catchy and relatable, and it will be impossible not to enjoy something from the group. As they play, Laura and Stephen have a chemistry that is similar to the now defunct Nashville band The Civil Wars, and while their Tennessee peers have a darker feel to their songs, the way both groups sing together is a rare occurrence, as everything comes together effortlessly.
"Little White House" takes things down a notch, but that does not mean that the track is any less gripping. While the song asks the narrator's grandmother to tell them about the days in the "little white house", the song expresses a desire to hear the older generation's memories. As the song draws us in, we want to hear more from CommonUnion59 as their version of pop, folk, and country music is immediately engrossing. The album's title track is a song that shows what Stephen sounds like as a soloist and we are immediately pulled in by his bold vocals that are the perfect backdrop to a song that sounds heavily influenced by The Beatles. Sounding similar to the Fab Four's later material, the track tends to drag at times, but the older 1960's sound works for the tunes tone and feel.
Heartbeat Serenade closes with "This Universe" and it is the strongest track on the album and we wonder why the band didn't place this song near the beginning, or even in the middle of the record. It's bright and cheery acoustic guitar line is the aspect of the song that sticks out the most and the relaxing cymbal hits give the track a very wispy and shimmery feel.
CommonUnion59 is a band not to be missed and Heartbeat Serenade demonstrates that they want to become more than just a local band from San Francisco.