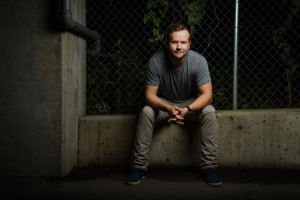 Nashville based singer Charlie Oxford has followed up his self-titled debut record with the Reflections EP, a release that is based around four songs that are uplifting, catchy, and a perfect preview to Oxford's music if you haven't heard of him before. When his first record deal went sour several years ago, Charlie retained the rights to his album Charlie Oxford and decided to re-release the record last year.
Getting press from such news outlets as The Huffington Post, Oxford has released an EP that will be a perfect fit among the record collections of both pop and country music fans, for its expressive style while also being incredibly relatable. The EP's opening track "Call Me" about being there for a friend in a time of need, introduces Charlie's audience to his confident and unwavering voice, using the piano as an accent piece, while letting Oxford's guitar playing provide the melody as well as being the instrument that the song centers around.
"Drive Me Crazy" is an easygoing and carefree song that is perfect for driving on the open road, the kind of attitude that Charlie wants reflected in his music, and while also making for easy listening for his audience. "Letting Go" is an acoustic pop tune that moves towards pop, while getting away from Oxford's blues influences. A great choice for a single, Charlie convinces his fans that he has what a musician needs to be great, while sounding similar to country newcomer Chris Stapleton, who plays with a heart and soul that is much the same as Charlie, while also having the potential to become one of his genre's most talked about artists.
To close Reflections, Oxford has chosen to end his latest release with a song titled "Waiting For", a jazz pop tune that would do well on the radio, much like "Letting Go." Immensely catchy, Oxford has proven his skill as a talented musician, letting us know that good songwriting is one of the keys to making it in the music industry, along with having the right attitude while climbing to the top.
You can listen to "Call Me", which premiered on The Huffington Post below.