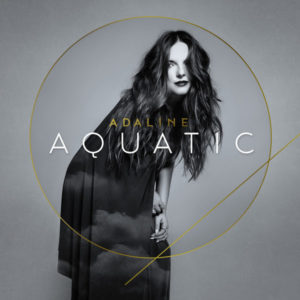 Canadian composer Adaline has written music for over 60 television shows and movies including Grey's Anatomy, Ringer, Flashpoint, and more. Now ready to embark on a new path, Adaline has released her debut album Aquatic, a 10-song LP that Adaline says serves as re-baptism of sorts, a starting over. Opening with the track "How Could We Know," listeners are hit with Adaline's breathy and gorgeous voice on top of warm electronic sounds. While the song is not an intense hard-hitting opener, "How Could…" feels like it was written entirely for Adaline and no one else. Looking to play music for herself, the passion that she displays for her songs through her voice shows immediately.
"Stronger," a track about coming out of a relationship standing tall, takes on the same slow tone as Aquatic's opener with its myriad of sounds creating something beautiful. With strings being introduced more than halfway through the track, Adaline is clearly not only going for touching lyrical content, but also beautiful emotional filled music that makes an impression on her fans.
"Younger Days" is an electronic-acoustic song that brings a meditative effect to the LP. Soft, slow, and angelic, "Days" is the stand out track on Aquatic, as it wraps Adaline's musical simplicity into a neat package that reminds fans of why they enjoy her music.
Closing out is the title track, and while we don't hear anything in the way of even a mid-tempo song on Aquatic, Adaline and her music is perfect for the music fan whose pace is a little slower. Aquatic leaves listeners with a sense that Adaline has finally made her mark not only as musician, but as a solo artist.
Listen to "Younger Days" below.