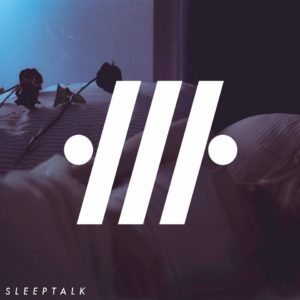 After the breakup of their previous band Like Giants, vocalist Anthony Fitzpatrick and bassist Paul McGill formed the group Sleeptalk in 2013, an electro-pop quintet that explores different styles than their previous group. Releasing their debut album Sleeptalk today, the San Fernando Valley band has released a collection of tracks that will thrill fans of The 1975, Bad Suns, and Walk the Moon for its atmospheric tendencies and space rock sound.
Opening with the records title track, the band feels like they are going in the direction of The 1975 with their "Medicine" like intro that sets up the calming vibes of the record. Tracks such as "Bright Eyes" demonstrate the group's abilities to write a catchy synth pop track and highlights Fitzpatrick's songwriting. Ready for some major airplay, "Bright Eyes" will catch the ears of newcomers and fans as being as being a strong song that resonates deeply due to its memorable sound that becomes stuck in your head.
"Strange Nights" kicks off with a spacey guitar riff and wispy vocals from Fitzpatrick, pulling in listeners with each bar of music, creating an ethereal experience for their audience. Sure to end up on a few playlists, "Strange Nights" is not a song to skip over.
Closing with "Drift Away," Sleeptalk leaves fans with a techno inspired tune, and while it's not one of the more notable songs on Sleeptalk, the rest of the LP will still suck listeners in. Releasing catchy music that's enjoyed by many is obviously the group's goal, while exploring their creativity which can be fully recognized with Sleeptalk.
Listen to "Bright Eyes" below.