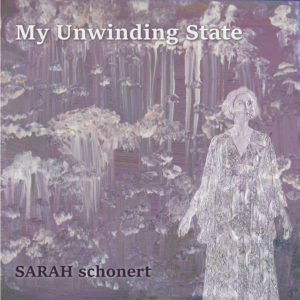 Sarah Schonert is a pianist and vocalist from Peoria, Illinois who has released her fourth LP My Unwinding State, a beautiful 16 track album that explores electronic sounds with classic elements, with a piano serving as the records main instrument.
Opening with "6 O clock," we get a chance to hear Schonert's beautiful vocals accompanied by her gorgeous piano playing, the perfect sound for fans of Imogen Heap and Kate Bush, as Schonert has developed an innovative sound while also penning creative lyrics. "Back Down Soon Under Steady Rain" features the sounds of the sea, a sound that Schonert loves to incorporate into her work while playing a delicate piano line that showcases her echoic vocals.  Both of these components make the song a breezy one, while bringing plenty of emotion into the track.
"Georges" is another quiet tune where the main focus is on Sarah's voice and the emotions that she creates. Singing over a piano, the song is a highlight on My Unwinding State, as its experimental approach comes to the forefront. Wanting to give the record an ambient feel, Schonert introduces "Shadows Don't Listen" towards the end of the album, giving her voice an underwater effect. While this gives "Shadows" an interesting tone, this effect takes away from the songs simplicity.
"Stained and Smiling," My Unwinding State's closing number, sounds like the records previous selections. Once again playing around with her vocal sound, Schonert adds a slow and bland drum beat that sounds a bit awkward when listening to it alongside the rest of the instruments. Wanting to expand her style as much as possible, the one thing we take away from My Unwinding State is just how much Schonert is pushing herself to be the best musician she can be, with listeners hearing these efforts loud and clear.
Suitable for fans of classical music as well as pop, they will find much to love about Schonert and her interesting songs, as each track exudes beauty, while giving it a modern edge that makes them appealing.
Listen to the opening track "6 O Clock" below.