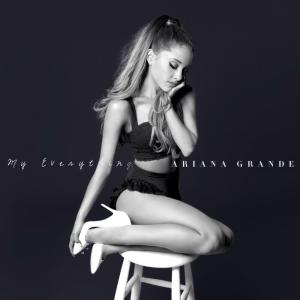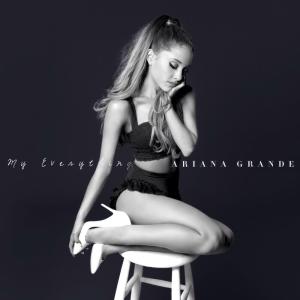 Ariana Grande is fairly new to the music scene. Releasing her debut album Yours Truly in 2013, she is back one year later with a new record called My Everything. Hailing from Boca Raton, Florida, Grande started performing in school plays starting in her teens, and would eventually go on to star in several successful Nickelodeon shows. While her television career was successful, she began working on Yours Truly in 2010, marketing the record towards a younger audience due to their familiarity with her television shows. While she promoted her music to a younger demographic, Yours Truly would garner critical acclaim from critics. On her new album, it is certainly evident that Grande has a huge vocal range, and while it has drawn comparisons to Mariah Carey, there are two problems with My Everything. While her voice is suited for performing pop music, her latest offeringis sadly a very safe record and does not take many chances. Even though she passionately illustrates her singing abilities, her lack of pronunciation for the lyrics may cause older listeners to dismiss the record as teen fluff. With that being said, there are a few songs that demonstrate Ariana's skill when she focuses on singing clearly.
While the album opens with a short song titled "Intro", the albums true opener is a song called "Problem." Infectiously catchy, "Problem" is the one track that you will walk away from the album remembering, even if the rest of it does nothing for you. After the hip hop style beat kicks in, we hear a saxophone loop at different moments throughout the song, which gives the song some serious pizzazz, and serves as a foundation for the tune, along with rapper Big Sean whispering "I got one less problem without ya" many times throughout the chorus. By the time the song ends, Big Sean's whispering has become so stuck in our heads that we will have a hard time getting it out. While it is always unknown how long an artist's career will last, if Ariana's career gets cut short, "Problem" will always be known as her one hit. After hearing "Problem" it sounds like My Everything will be a sizzling album, though sadly it begins to fizzle out after Big Sean stops whispering.
"Break Free", featuring DJ Zedd, is toned down quite a bit from the party vibe of "Problem", and its synth and DJ influence make it a good choice for a single due to its danceable nature, though there is nothing overly remarkable or exciting about the track. Ballads such as "Just a Little Bit of Your Heart" written by One Direction singer Harry Styles is one of the strongest songs on the album. Backed by piano and strings, Grande sings with an honesty that sounds so raw it feels like she wrote the track herself. After we find our way through the mess that is her poor enunciation, on "Just A Little Bit of Your Heart", we hear her sing her words clearly, demonstrating that she is in fact a very capable vocalist as long as she sings with care. "Hands On Me" is another upbeat track that sounds very much in the same vein as "Problem", and with the faint horns throughout, it sounds reminiscent of the albums golden song. Very suitable for the dance floor, it has more zip than "Break Free", though its weakness is the appearance by hip hop artist A$AP Ferg, whose sloppy rapping makes the track falter.
The album closes with the records title track, and after listening to it, we come to the conclusion that the song should have been left off of the final track listing. Ariana's nasally and breathy vocals don't do the song any favors, and its nondescript sound makes it crumble. While hardcore Grande fans will fall hard for her latest album, if you weren't a fan before, you won't think much of Ariana's new music, but you will come away remembering the few strong tracks that she has chosen for My Everything.