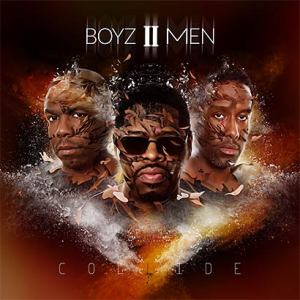 Twenty-three years ago, Boyz II Men burst onto the R&B scene, with an album called Coolhighharmony, released in 1991, setting the band up for massive success which would keep going for over two decades. Their easygoing approach to ballads with a romantic and sultry feel put them on the map in 1992, with the release of "End of the Road", which was part of the Boomerang soundtrack. Members Nathan Morris, Shawn Stockman, and Wayna Morris met in high school in Philadelphia, and were inspired to start an R&B vocal group after discovering the 1970's boy band New Edition. The group would go on to record ten albums, with their most recent being Twenty in 2011. With their new album Collide, the group has taken what they have learned over the past two decades, and blended everything together to make an album that is one of the most diverse and well done albums of the year. Collide proves that the band is still appealing by creating a new sound all of their own, while also switching up their musical direction by making a decision to not include any ballads on the album, a first for the band.
Collide's opening track "Me, Myself, & I" sounds a bit more mechanical and heavy on the auto tune than previous albums, though the band hasn't lost the harmonies that made them popular from the start. The vocals on this track are placed over an easygoing beat, member Wayna Morris takes the reins vocally and leads his band effortlessly, with a smooth voice that only gets better with each album. Still keeping up with the pop infused sound the band has chosen to embrace in more recent years, tracks such as "Underwater", show the group in a new light, as mid tempo tracks really suit them, as "Underwater" is a fun and breezy song that demonstrates that Boyz II Men have strong harmonies that will have a hard time being matched.
"Already Gone" is a bouncy track that not only shows the bands vocals, but the song has an energy that will inspire their fans to sing along with every note. The tunes scattered drum beat gives the song an extra element that really fits the feel of the song, while also allowing each instrument to be heard. The album ends with the album's title track, and it's a good way to wrap up the record, as it a subtle reminder of how Boyz II Men began, without incorporating the cheesy spoken word verses of songs such as "End of the Road." The song is complete with just vocals and a piano, and for Boyz II Men that is all they need to keep their career and music moving forward for many more albums to come.
You can purchase Collide here.