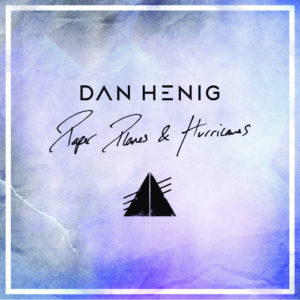 Over the past few years, the R&B genre has fallen largely into decline, however artists such as British vocalist and ex boy band member Zayn, have brought the dormant genre back into popularity. Artists like Zayn give the style a much needed update, while Ann Arbor, Michigan native Dan Henig has the potential to pull R&B back into permanent relevance.
While Henig's original goal was to play football, a neck injury ended any possibility of Henig pursuing the sport, so instead he moved his attention towards music and relocated to Nashville one year after deciding to take his new path. Shortly after, he moved once again to Los Angeles where he now resides. Sounding similar to Zayn and a modern and updated Usher, Henig is a musician that you should not miss. Becoming well known through his unique covers of Michael Jackson and Rihanna, fans have been patiently waiting for Henig to release his own material. The wait is finally over with Dan's new EP Paper Planes & Hurricanes, a release full of sexy and soulful tracks that conveys perfectly the amount of talent that Henig possesses.
Opening with a banger of a track titled "Hostage," immediately we wonder why Henig has not been heard on the radio, as "Hostage" is a dance number that will be circling around your brain for quite a while. With a pulsing beat and fluid vocals from Dan, we get a catchy number that sticks within our minds.
"Crash & Burn" soon follows, and its slow and melodic tempo is a slow burner, showcasing Henig's ability to not only sing well, but to move the audience almost to tears. Reminding R&B fans of Maryland singer Mario, the track has a strong R&B influence, with a pop slickness that can't be ignored.
Closing Paper Planes… is "Paper Plane," another slow ballad that would do well on pop radio despite the songs repetition, its only hindrance. While one could argue that modern pop music is stripped of personality for the sake of clean production, Dan Henig's latest work is anything but. Full of personality and indelible hooks, Paper Planes & Hurricanes is an EP that needs airplay sooner rather than later.
You can watch the music video for "Crash & Burn" below.