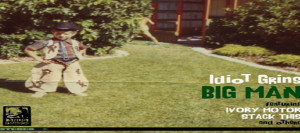 Big Man, the second album from Idiot Grins, explores the Bay Area soul bands love of old music, with a particular focus on the records being released on Memphis record label Stax Records, with the influence of Booker T and the MG's coming through at nearly every turn. Inviting Bay Area steel pedal legend Joe Goldmark to perform on several tracks has also allowed Idiot Grins to experiment with different kinds of genres, leading to the creation of the group's diverse sound.
On the opening track "How To Get To (Baltimore)", the bands snazzy feel is apparent immediately as well as their talent for solid songwriting, and right away we know that we are on to something special from the very beginning. With solid playing abilities and a handle on how to write a song that sticks with you, Idiot Grins is not a group to write off, and it's clear that they have bigger aspirations than just being a local band from the Bay.
"Snuggy Doo" is a disco inspired tune with hints of jazz and its relaxed vibe is one that nearly anyone can get into as it expresses the bands musical desires while illustrating to everyone listening exactly what the group's roots are, forming a pleasing combination of rock, soul, and jazz. "Sour Man" takes on very much the same feel as the other tracks, though it is the records only ballad. This time introducing country stylings into their music, the band has kept their audience well entertained and satisfied throughout the entirety of Big Man. And while it is a long way to the top when trying to make it in the music industry, Idiot Grins has the chops and the confidence to get there as they clearly envision nothing standing in their way.
You can listen to the song "Poppy Piss" below.