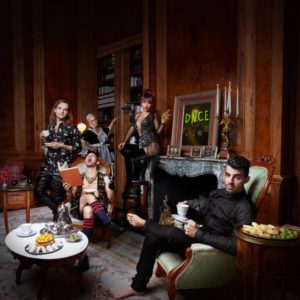 When DNCE debuted last year, it felt like critics were going to write them off, mostly due to their famous front man, Joe Jonas, formerly of the sibling band the Jonas Brothers. After a failed attempt at a solo career with his debut record Fastlife in 2011, it seemed Jonas' time in music was up once the Jonas Brothers broke up in 2013. Two years later, in comes DNCE (a play on the word "dance") in 2015 with the smash hit single "Cake by The Ocean" completely changing the perception that many had of Jonas. Joining him in this latest project is Jonas Brothers drummer Jack Lawless, and two other musicians named Jinjoo Lee, a touring guitarist, and Cole Whittle of Semi Precious Weapons on bass guitar.
The group released their debut EP SWAAY months after announcing their formation to incredible success. Liking a Jonas Brother was cool, while the music was incredibly funky and playful. Giving fans a taste of what was to come on their debut record, the band has included several songs featured on SWAAY on their new self-titled debut, and the music still feels fresh as it did a year ago, despite hearing a few of these cuts before. Opening with "DNCE," the group kicks off their full-length with the same energetic pizazz that SWAAY had. With a 70's funk vibe more reminiscent of the groups parents' generation, DNCE can cross the age divide successfully, as their music isn't just for the young.
"Body Moves" one of this first songs from this release, is easily one of the best tunes of the year. Jonas, who is finally allowed to show off his sexual appeal, performs music that is sultry, and while its accompanying music video could be categorized as not suitable for work, its slick guitar riffs and heart pounding choruses makes "Body Moves" an infectiously addictive track.
"Good Day" is another cut that showed up early for fans, in the form of an instant download for fans who pre-ordered the record. Starting out with a sing along chorus, it has a much subtler punch, but its sunny appeal makes the song's lyrics believable. As Jonas croons that "today is gonna be a good day" over an overdubbed chorus, we can't help but believe him, while basking in the songs memorable sound.
Releasing a track titled "Jinx" on SWAAY was seen by many longtime Jonas fans as a nod to Jonas' and his old musical outfit, and as such the group decided to leave the track off their debut. Instead, they have replaced "Jinx" with a pop song titled "Truthfully" in what could be considered a departure from the group's funk and dance sound. Comprised of an acoustic guitar and Jonas' voice, the song plays like something that could have popped up in the Jonas Brothers catalogue if they had stayed together for a few years longer. Though regardless of what you think it's alluding to, it's a strong number that is eagerly waiting to be added to your music playlists.
DNCE's closing anthem is a tune titled "Unsweet," another indelible song that is the perfect ending to an album that will make many best of 2016 year lists. Knowing how to lock in a groove like longtime seasoned pros, DNCE is a band to keep your eye on, proving that teen pop stars don't always have an expiration date and that they can often come back sounding better and more accessible than they were before.
Take a listen to "Body Moves" below.