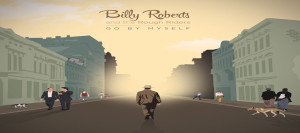 On their sophomore album Go By Myself, Billy Roberts and the Rough Riders take on a much darker edge than on their debut record The Last of the Originals, released last year. The releases opening song "Beat Down and Broken" has the country influences that Roberts and his band introduced to us a year ago, but the track feels much more experimental and choppy than what we are used to hearing from the native Australian. With a smoky and deep vocal rounding out the darker sounds, it feels like Roberts is getting a bit more aggressive with his vocal style, charting out the direction that he wants to take with his music, even though it is still early in his career.
"Kayla," an acoustic track, briefly cuts through the darkness that we heard on "Beat Down", by kicking off the song with a bright acoustic intro. This bright glimmer doesn't last long however, as the song gets back to Billy's edgier new style. While we don't know exactly who Kayla might be, the story that the track tells is intriguing, with Robert's piquing our interest by playing a dreary guitar part with lyrics that pull us in, making the audience interested in knowing the songs inspiration.
"Gone To The Dogs" is by far the most country like song The Rough Riders have written for Go By Myself. While the track mostly features acoustic guitars and string bending country riffs, "Dogs" is a catchy song that will become the album's head bobbing number, as Billy performs a lick that makes the tune worthy of becoming a single. Roberts closes out his melancholy effort with the song "Goodbye Old Friend", and like any country artist who tells a good story, Billy pulls us in and lets his fans in on his emotions, making the tune something that everyone listening can relate too.
After hearing Roberts new songs, we realize that he is a natural born storyteller, who crafts songs that make us feel the emotions that Billy is trying to convey, while allowing his fans to place themselves in his songs, forming a connection between songwriter and listener.
You can listen to the record over at the bands Bandcamp.