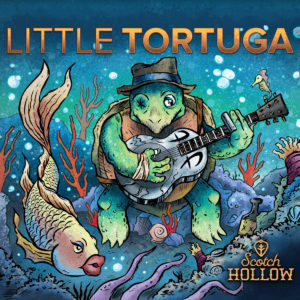 Kansas City rock-blues band Scotch Hollow has released their new album Little Tortuga, a saucy blend of rock and blues music that fits in perfectly with their Mid-West vibe. Fronted by front woman Carley Martin, she and guitarist Mark Verbeck met at the Berklee School of Music and eventually found their groove when they formed Scotch Hollow. Opening with "Hocus Pocus," the song is tightly executed to stir the urge to get moving. With great harmonies from both Martin and Verbeck, we quickly warm up to the band's music.
"Nobody but You" is a slow woozy track which introduces the groups jazz leanings, with harmonica player Brady Buster creating the sleepy and relaxed feel of the song, giving it a flavor that sets the song apart from the rest of the track list. "Honey Baby Why?" is a number that nixes the blues style in favor of country, a genre that also suits the group well. While the LP focuses on these three stylings, it feels like nothing is out of reach in experimentation for Scotch Hollow. With that aside, the band knows country, blues, and rock inside and out, making for a satisfying batch of songs that will stay with their audience.
Closing with the bluegrass tinged tune "City by The Sea," Scotch Hollow weaves everything together, while highlighting their talents. With guitar licks that takes on a life all their own, we wonder how the tune would sound with just a guitar and vocals, as it would sound excellent being stripped down. While Scotch Hollow is still new to the Kansas City music scene, it feels like they will gain many new fans in their hometown with their blues and rock tunes that shake up their audiences.
Listen to "Nobody But You" below.