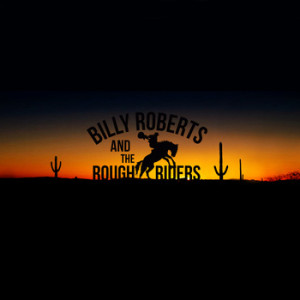 Billy Roberts and the Rough Riders are a rock band infused with old fashioned country music. Hailing from Australia, Billy Roberts and The Rough Riders play a style of music in an area where country music isn't all that popular, but from the independent nature of the group's first record The Last of the Originals, the band certainly marches to the beat of their own drummer, and it doesn't matter if you like their music or not. While we hear obvious country influences throughout the record, the band also dabbles in folk and rock and roll and fans of those genres will find something to love in Billy Roberts's music, even if country music isn't their cup of tea. Born in Moree, Australia, Billy was a late bloomer in picking up an instrument as he did not pick up the guitar until his twenties. While his heart had a soft spot for country music, he did not want to make his music sound one dimensional. To make sure that didn't happen, on his first record he takes influences from bands such as Arcade Fire, Neil Young, The Black Keys, and Buddy Holly. While each musician in Roberts's band plays well, the album often misses the mark in sound and songwriting.
The album opens with "Mrs. Jones", a tune that starts with a rollicking guitar part, and a solid drum beat from drummer Ed Glass. Both musicians have solid skills, however the balance in the mix often feels uneven, and there are moments where it feels like the guitar overpowers the drums. The vocals on this track, which are entirely sung by Roberts, sound very nondescript, lacking the emotional feel that we normally hear in country music, which is greatly needed as the genre does a fantastic job at telling stories, while allowing listeners to relate to the song, as country tunes are known for being able to form an emotional connection with the audience. The track also includes a light piano in the background, but due to the songs rock and roll vibe, the piano feels awkward and a little out of place. "I'm Gonna Get That Girl", the records next track, opens up like it is trying to explore different musical avenues. Sounding like a harder edged rock tune, the overall flow is better than "Mrs. Jones." The guitar riffs are vibrant, and while Billy can carry a tune, his voice still doesn't bring anything special to the music, leaving listeners underwhelmed. Though, as a guitarist he really shines, as his intricate guitar riffs really demonstrate his proficiency, and while he may love country music, his playing style and sound feels more suited for a hard rock band instead of one that labels itself as a country act.
In the middle of the record, we have "Never Know", which has some great ideas, though when put together, every instrument sounds very clumsy when put together, making the track a difficult one to listen to. However, right after "Never Know" ends, a tune called "No More Mr. Nice Guy" begins playing, and right from the start we feel like we have discovered a diamond in the rough, as the tune has potential, though it still feels like it is missing something. Despite its shortcomings in its sound its attitude makes up for it. The tune begins with a guitar part that charges ahead, and its thick skinned attitude says a lot about what Roberts's really thinks of anyone's opinions.
"Red Head Baby" is another tune heavy on the country flare, and its slight rock and roll edge makes the tune one of the records best tracks. The thumping bass and the dark sounding guitar line (which has its wailing moments), sounds like an outlaw country song, even as the narrator speaks of finding a red headed girl to love.
Overall, The Last of the Originals has its stand out moments, though it is without its flaws. With a bit more practice and experience, the Rough Riders can become a great country group as they try to express themselves authentically with their music.