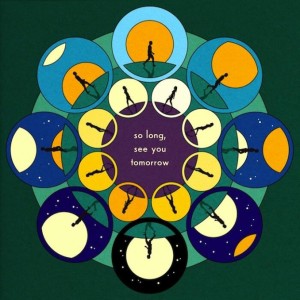 So Long, See You Tomorrow by London indie rock band Bombay Bicycle Club is an album that tests new sounds and genres, and ends just as strong as their previous records, though the new sounds on So Long…takes fans to an entirely new world through music. If this album is your first introduction to the British rockers, listening to their previous records gives you a sense of where they have been and where the band is right now, though given the evolving nature of each Bombay record, the band isn't likely to stay with their current sound for long. Jack Steadman, guitar and vocals, Jamie MacColl, guitar, and drummer Suren de Saram began playing music together at age 15 under the name The Canals. They switched between different monikers until settling on Bombay Bicycle Club, which they took from a now defunct chain of Indian restaurants in Britain. Bassist Ed Nash joined in 2006. The band would release two more albums with two very different sounds heading more into the genres of rock and roll and electronic music. On this album, none of that is present.
With So Long, See You Tomorrow we get a new twist in the Bombay Bicycle Club discography. The opening track "Overdone" has an obvious Indian influence, as the use of exotic instruments on the record were inspired by Jack Steadman's travels to India and various other countries during the bands time off. The absence of guitars is largely gone from the record, as the group tried to incorporate as much of a world music influence as possible. Cuts such as "Carry Me" has a jarring and punchy feel, as drummer Suran de Surum plays short cymbal chokes to create a biting effect throughout the song. "Luna", has many layers, with each one adding to the songs exotic flavor and pizzazz. Singer Rae Morris makes an appearance on the track and compliments Steadman's voice perfectly giving the song flair and even more appeal. "Feel" features a plethora of different instruments that you wouldn't normally hear in mainstream music, due to the album's prominent travel theme. Without these instruments, the song would sound hollow as it looks to be largely based around their older songs which have more of a base in rock.
The band does a great job at introducing fans to Steadman's very influential trip even if it is only through song. While the new sound suits the band, fans better prepare themselves for an entirely new record next time. While So Long, See You Tomorrow may not be everyone's cup of tea initially, it's the kind of record that grows on you even if it is one song at a time.