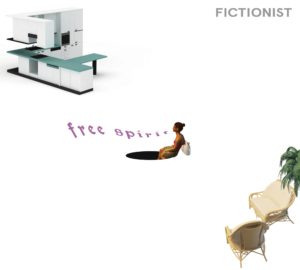 Utah alternative rock band Fictionist has just released their latest EP Free Spirit, a four song release that keeps up the catchy sounds that has made fans fall in love with them. After opening for bands such as Vampire Weekend, Neon Trees, Imagine Dragons and signing with Atlantic Records in 2011, Fictionist has released music that gets them on track for becoming the next big band.
Opening with the title track, Fictionist kick off the EP with good vibes and a song that would serve as a perfect single. Putting bassist Stuart Maxfield on lead vocals is an interesting choice due to his chosen instrument, though he vocally glows with confidence, as he sings along perfectly with the bands bouncy music.
Next, we have "We Can Sleep When We Die" another upbeat tune that can compare Fictionist to Connecticut band MGMT, due to the intertwining of psychedelic pop and electronic influenced rock. Every member plays well on this song, and with a beat that you won't be able to erase from your mind, Fictionist couldn't have released a better EP.
To close out Free Spirit the band chose "Right Now," a sprightly track that is certain to become a popular song to play at their live shows, as "Right Now" has all of the right ingredients for a hit and will do well if it ever goes to radio.
With Free Spirit having such a positive vibe, we wish the EP were longer, and we hope that the group will continue the same style and personality on any upcoming material, as Free Spirit is something special.
Listen to the records title track below.