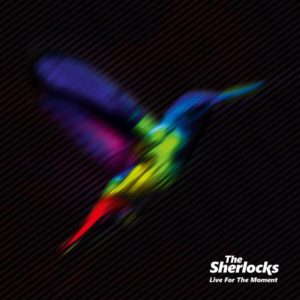 Sheffield, England four-piece The Sherlocks have released their debut record Live for The Moment on all digital platforms, with physical copies arriving on September 8th. Starting out as a hobby in 2010, the group has now turned their passion into a career, playing numerous festival dates while heavily promoting their debut LP. With the first single "Chasing Shadows" being released earlier this year, The Sherlocks have become known as a band to watch for their powerful live performances and their energetic style which comes through perfectly on Live for the Moment.
Opening with the song "Will You Be There," every member of the quartet brings as much energy as they can to the track, creating a punchy and colorful collection of songs. Guitarists Josh Davidson and Kiaran Crook demonstrate their excellent guitar skills on this track, while drummer Brandon Crook keeps things solid with a biting crack from his drum kit.
On numbers such as "Blue," we hear slight punk influences merge with the bands fiery style as fans become lost in the music, which is sure to make The Sherlocks one of the most talked about UK bands this side of the pond. Giving more of an old-fashioned feel to their tunes, The Sherlocks are bound to be enjoyed by older music fans as well as the current generation. With songs such as "Last Night," we feel the bands bouncy demeanor with every note, and we have Brandon Crook to thank for writing a rhythm part that matches perfectly with bands excitement during a live performance.
Ending with the song "Candlelight" The Sherlocks have written a strong debut that will become a popular LP outside of the UK and the around the world. And as the band plays many shows in the UK, there is no reason why the same could not happen in other parts of the world too, leading The Sherlocks to experience success on a universal level.
Listen to "Chasing Shadows" below.