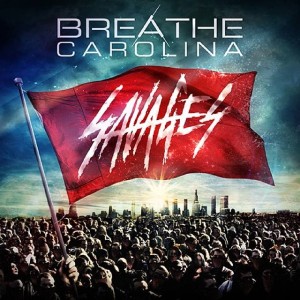 Breathe Carolina is one of those bands that you either love or hate. Their electronic-screamo style of music is not something you can grow to love, and on their new album Savages, it is almost impossible to find anything worth liking. Breathe Carolina began in 2007 when David Schmitt (vocals) and former member Kyle Even began writing songs with Apple's Garageband program. After posting a few of their songs to Myspace in 2008, the band gained over 10,000 plays eventually getting over 30,000 plays in 2009. The band would go on to release three albums It's Classy, Not Classic (2008), Hello Fascination (2009), and Hell Is What You Make It in 2011.
When one listens to Savages, it feels rushed, sloppy, and so sugary sweet that it's hard to imagine anyone over sixteen liking the band's music. While the band has always combined pop, electronic, and metalcore together it never really seemed to fit, and at times the music feels like it resembles boy band style tunes, rather than a band that wants to be taken seriously. The album's opening track "Bury Me" sounds likes one big electronic mess, and instead of sounding like the big opening song it wants to be, it sounds like more like a remix. Despite the heavy use of auto tune on the vocals, the vocals are the only positive aspect of the song, since that is the only musical component. "Sellouts" is the first song that incorporates metalcore screams; however it doesn't start to sound good until you listen to it a few times. Sounding a bit like Swedish metalcore band Dead By April, the band mixes pop music with a hint of edgier sounding rock, which makes "Sellouts" the albums strongest song, though as the record continues, Savages keeps on faltering. "Shadows" is a song that pumps up the dance music and will please the bands fans that are heavily into techno. Aside from the songs pulsing beat, it offers no catchy moments even though it tries hard to be memorable. While the song features female vocals to compliment David's voice, it really does nothing to make the song standout from the rest of the album.
The last song entitled "Mistakes" is the last tune on a mostly unbearable album. The song combines all of the bands preferred genres making it sound like a long remix that doesn't work. Overall, it is hard to find what there is to like about Breath Carolina. While some music fans may be able to find a Breathe Carolina song that can become a guilty pleasure, on Savages you will have a hard time finding it.