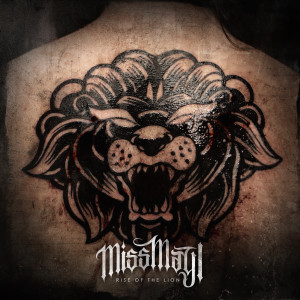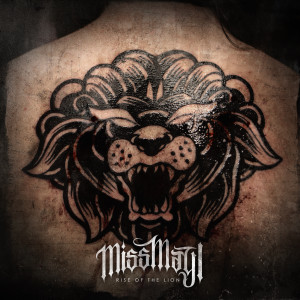 Rise of the Lion, the new album by Ohio metalcore band Miss May I is a solid record that offers fans brutal and catchy tracks that not only reflect who they are as a band but the genre of music that they play, as they stay true to the genre's gritty guitar riffs, rumbling drums, and high pitched screams that make the songs on Lion feel very immediate with their emotion. The group got its start in Troy, Ohio in 2006. Two years later, they signed to Rise Records where they released their debut album Apologies For The Weak when its members were still in high school. The band would go on to release two more albums called Monument (2011) and At Heart (2012.)
The first track on Rise of the Lion called "Refuse To Believe" opens with guitar feedback, and immediately hits you with wailing guitars and double bass drums. Lead singer Levi Benton's screams are brutal and captivating as fans can feel his emotion and drive to make his music the best it can be. Ryan Neff joins him by providing clean vocals, which gives the track a more melodic element, by breaking up the busy sound that metalcore can take on. Jerod Boyd, the band's drummer is very precise and tight, and he locks in the band from the second they start playing. While the beat is often times repetitive on the track, for this particular song, the repetitiveness feels like it serves a purpose.
"Gone" is a punk rock style track where we get to hear Ryan really clearly on vocals, and his voice gives a softer edge to the music. When listening to his voice, it would be an interesting experiment to see how his vocals would shape the feel of one of the bands tunes if he was able to take on vocal duties for a majority of the song. "Hero With No Name" feels reminiscent of the pounding drum style of Pantera, adding one more layer of influence to the band's music. The shredding style of lead guitarist Justin Aufdemkampe and rhythm guitarist B.J. Stead shows that the band has some serious shredding capabilities, which is something that you need to be good at to make metalcore a complex and punchy genre.
The album's last song "Saints, Sinners, and Greats" opens up with a hard hitting drum solo and kicks into high gear for the next three minutes. Each member of Miss May I lives up to their full potential on Rise of the Lion by crafting killer songs that rock and doesn't stop until the record is finished. Both fans of the band and the metalcore style will welcome Miss May I as they have released one of the best metalcore albums of the year.