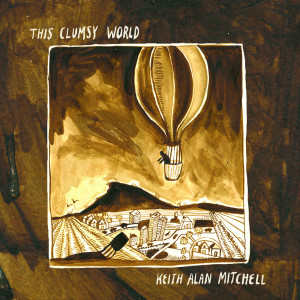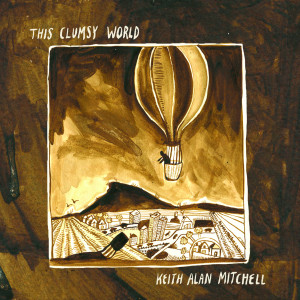 San Francisco indie-folk guitarist Keith Alan Mitchell has written a great upcoming album called This Clumsy World, set to be released on June 20th. As we listen to Mitchell strum his guitar and sing songs about breaking free of professional and personal ties, we get a taste of his very personal songs, with some of them being possible autobiographical tunes where he draws on life experiences to paint a picture in the listener's minds. Originally an Ohio native, Keith has fronted bands in his home state as well as his adopted hometown of San Francisco, and This Clumsy World is Mitchell's first solo record, which is very enjoyable. On the production front, This Clumsy World was self-produced by Mitchell and mastered by Brian Lucy who has worked with blues rock band The Black Keys. Since the album's lyrics focus on the theme of breaking free, Mitchell has said the following about the album's songs, "All the songs have to do with breaking free in some way; escaping, moving on, even disappearing. That can be a good thing, like breaking out of old patterns or old disagreements, but it can also mean people moving away from each other, being adrift and not grounded."
The album's opening track "Being Buried" has a very poppy sound with a tinge of folk. Singing boldly, Keith sings about digging up buried gold and how he doesn't want to wait too long to find it all. The song is purely acoustic and is a good introduction to Mitchell and his feel good pop and folk tunes. "You Just Disappear" is another pop sounding tune that sounds very similar to something Jack Johnson would write, with its light and carefree guitar part. The overdubbed chorus and the light tambourine adds a nice touch to the songs stripped down feel, which makes the track a pleasurable listen, no matter where your musical preferences lie. "You Just Disappear" is an excellent addition to Mitchell's album, as listeners feel like he is truly embracing being a solo artist. "The Tavern Angeline" is a song about going to the local bar in your hometown and how things have mostly stayed the same. One of the first tracks on the record with drums and a piano, this is the first song where we feel like we are hearing a little bit of what Mitchell sounded like when he was fronting bands, and this might make listeners interested in discovering his past musical projects. The next song "The Feud" sounds slightly more rock and roll (with reminders of San Francisco's rock scene of decades past) in the guitars, "The Feud" is about not seeing eye to eye with your band, and breaking free to strike out on your own to pursue the music you want to create as an individual. Keith sounds like he is truly in his element here, and playing more music in this style would certainly suit him well, as it could potentially open more doors in his career.
Lastly, "Our Eyes" is This Clumsy World's last track, and Keith is back to the acoustic stylings of the album's previous songs. Plucking the guitar delicately and singing his thoughts, "Our Eyes" is a great track to close a good album. This Clumsy World is Keith's ticket out of San Francisco if he wishes to expand his music to other markets and music scenes beyond the Bay Area, and with his record of great songs getting out of California's coldest city would be a great decision.
Keith will be having a CD release show at The Hotel Utah in San Francisco on June 20th at 4th and Bryant Streets. Tickets are $10 and advanced tickets are available at Keith's official web site (www.keithalanmitchell.com.)