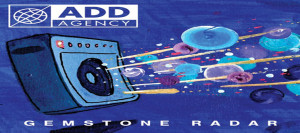 Over the last few decades, Texas has been home to some unique bands, with groups popping up all over the state, with El Paso being a town that is not likely to be on anyone's musical radar, though the city is home to Add Agency, a solo project by 80's inspired musician Will Mora. While we applaud him for his musical efforts, which introduce the vibes of David Bowie and LCD Soundsystem to a new audience, his new release Gemstone Radar crumbles completely.
Opening track "BootyPop" is a track that takes us back in time to the 1980's, complete with synthesizers and drum beats that sound entirely canned, with tinny piano effects that make us wonder when the song will end. While one of the many ideas concerning the albums direction was a desire to bridge the generation gap between 80's era musicians and performers today, Mora does a poor job at making 80's music relevant again, leading us to believe that he is permanently stuck in the past.
"Motivation" appears in the middle of Gemstone, and the song is another flop, though it's no worse than the tunes before it. While listening to the track, we do wonder what influenced Mora to bring this style of music back to a younger audience, and ultimately what their response has been to the release.
Lastly, Gemstone Radar ends with a funky song titled "Cola" complete with whispered vocals and a boring beat that drags us through the song, with Mora failing to give his fans anything fresh or innovative in this closing number. While 80's music has made somewhat of a tasteful comeback due to British bands such as The 1975, it's hard to play the era well, particularly since music has changed so much in sound and production within the last thirty years, leaving ADD Agency sounding incredibly dated.
Watch the music video for the song "BootyPop" below.