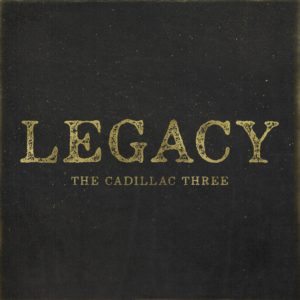 After releasing their 2016 debut Bury Me in My Boots, Nashville Americana-country band The Cadillac Three are back with their second record Legacy. Meeting in their teens, vocalist and guitarist Jaren Johnston, drummer Neil Mason, and steel-player Kelby Ray have known each other since high school, and after performing together for 15 years, The Cadillac Three sound like the seasoned groups they grew up listening to. While the band has achieved such career milestones such as playing the Ryman Auditorium, which is only minutes from their high school, the band's latest effort sounds polished and well-done, the perfect album for Nashville's local country scene.
Opening with "Cadillacin''" the track sounds fresh and new while also being a bit of a bopper, with Johnston's addicting riffs and vocals adding to the freshness of the trio's sound. On tracks like "Ain't That Country," they take on the traditional country sound without running into the pitfalls of country's usual sappiness, making the track an appealing one. Numbers such as "American Slang" starts with an intro that will immediately become unforgettable and catchy. An opportunity for a single, "Slang" gives listeners the impression that The Cadillac Three are authentic, while sticking to their musical roots and developing their own sound in the process.
Ending with Legacy's title track, it's obvious that the band is adding to what will hopefully be a long run, if they keep writing top notch tunes while playing their cards right in an often-brutal industry. Though it feels like The Cadillac Three are taking the right path.
Listen to "Cadillacin'" below.