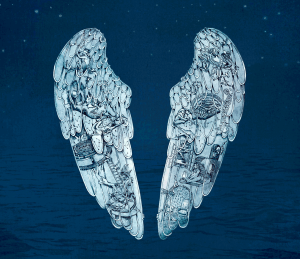 Chris Martin, the front man of the British rock band Coldplay, is going through a rough time and on his band's new album Ghost Stories, he is letting his fans and the rest of the world know about it while giving his fans a window into his pain. Throughout the recording of the record, he was trying to work through a crumbling marriage to actress Gwyneth Paltrow, and Ghost Stories divulges his pain of his divorce, by leading Coldplay to take on more of a moody and sad style of music, and the songs don't sound anything like the songs Coldplay fans heard on the group's debut album Parachutes (2000) or A Rush of Blood To The Head (2002.) Instead it sounds much like X&Y (2005), a much more electronic album which functioned better as background music. While the music on Ghost Stories is decent, by the end of the record we are sick of hearing about Martin's divorce and how his relationship fell into shambles.
While each band member makes an appearance on the record, Martin's band mates Johnny Buckland (guitar), Guy Barryman (bass), and Will Champion (drums), largely take a backseat to Chris and his piano, making Ghost Stories sound mostly like a solo album for Martin to vent his emotions. Forming in 1996, the band had such pop hits like "Yellow" from their 2000 album Parachute, and "A Rush of Blood To The Head" from the album of the same name in 2003. Both albums cemented the band as a band that was capable of busting out the drowsy songs that we all could fall asleep too. This new record has that same effect, but this time we hear Coldplay heading into a more electronic direction, taking on many of the musical characteristics of Bon Iver, a musician that has largely had success with writing soft, trancelike songs that will send you off to dreamland.
The albums opening number "Always In My Head" that has Chris telling Gwyneth that she is always on his mind, despite their making headlines for their "conscious uncoupling" ceremony about a month ago. Whether he is longing for his wife or not, the song is very boring and not a good opening track, despite the fact that album picks up the bands previous pop styling's later on. The album's second single "Magic" begins with an electronic drum machine, a deep bassline, and Chris's tender voice. Being the album's second single; it explores Coldplay's new sound a little bit more than the first single "Midnight" did. Not sounding completely atmospheric like its predecessor, "Magic" has more of a full band feel, and while it doesn't have the big sound that other Coldplay singles do, it represents the album well since it has all of the elements of Ghost Stories wrapped into five minutes. "Midnight" is what hit Coldplay fans just a few months ago, when the band released the song without any warning. After mysteriously showing up online, fans and critics were interested to know if "Midnight" would be a song that would represent their new material as a whole. While it didn't, it certainly came close. Having a very electronic sound, the trancelike song has Chris singing with overdubbed vocals sounding like his voice is echoing off the walls. The calming, almost techno like sound presents Coldplay in an entirely new light, and everyone was eager to hear more new material.
"Another's Arms" has Chris singing along with a somber piano and electronic drum beat that doesn't quite go with the sad vibe of the song. Martin is once again mourning his wife, and by this point in the album, it feels like someone needs to step in and pick Chris off the floor, as he is almost done with singing about his soon to be ex wife which has been going on for a good fifty minutes. "A Sky Full of Stars" opens with Chris playing a piano part that sounds very similar to their hit song "Viva La Vida", off of Viva la Vida (2008) while being the most upbeat song we have heard Chris sing throughout Ghost Stories. Will Champion, plays a stomping backbeat that is reminiscent of The Lumineers, and everyone in the band is back to playing their roles, which they ease back into flawlessly. After hearing the beauty of "Stars", fans may wonder why the more chipper outlook took so long to show up and why it was introduced so late in the record.
Ghost Stories isn't a bad album, but it won't go down as one of Coldplay's best either. Hopefully Chris will have worked through his emotions before the next album hits us, and he will come up with something a little less dreary down the road.