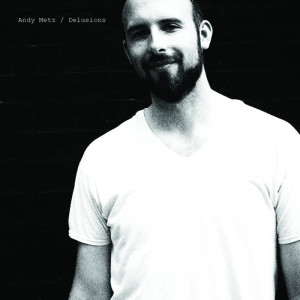 Chicago based singer-songwriter Andy Metz has released a beautiful and calming new LP titled Delusions, filled with carefree guitar parts and tight chorus's that turn us on to the charming sounds of folk. Opening his latest effort is "Where We Belong", a track that feels perfect for the warm and carefree days of the oncoming summer season. With a gravely but strong voice, Metz pulls us into his music with almost no effort, with his songs becoming written into our brains permanently.
"A Prelude To Witnesses" is a brief piano driven track that creates a sense of being reflective, which creates a beautiful angle that Andy has not explored before on Delusions. With the absence of vocals, the song has a haunting bent to it, allowing the audience to feel a wide range of emotions. Tracks such "Old Man" bring listeners back to Metz and his woozy songs, with "Man" becoming one of our favorite cuts on the record, with a simple acoustic guitar and overdubbed vocals it doesn't take much to enjoy the song. "Saved" closes Delusions and while it feels a bit too long, it really wraps up the record and the feeling that it tries to convey, a talented musician who wants to release the best music that he can, winning over one fan at a time.
Stream Delusions below.