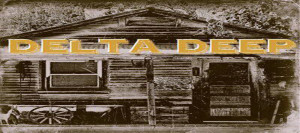 With his new blues band Delta Deep, Def Leppard guitarist Phil Collen has brought together a diverse set of musicians to form a group that displays remnants of Def Leppard inspired rock, while incorporating more modern elements of rock and roll to write a self-titled record that is one of the best we've heard this year. Collen got his start in Def Leppard in 1982, after coming into the fold as the group was in the studio recording the album Pyromania due to the band needing a replacement for their then guitarist Pete Willis. Since his entry into the group, Phil has kept himself busy with not only Def Leppard, but a plethora of side projects, with Delta Deep being his latest.
Released just a few short months ago, the album has done well and with the records assembled cast of well known musicians, which includes Debbi Blackwell-Cook who has sung vocals for Michael Buble as well as Robert DeLeo of the Stone Temple Pilots, Collen has made sure that his new band rocks and plays hard, something that they live up to entirely on their debut.
"Bang The Lid" the releases explosive opening number, gives the groups audience a fantastic taste of who they are. By using the band's name as the album title, it gives newcomers to the group an introduction to Delta Deep's sound, as the new music allows each member to start over with a clean slate and let go of their previous bands. With new songs, come new ideas, and new images, with Delta Deep coming through and really owning the bands style and music. And while there is certainly nothing wrong with the material Def Leppard have released over the last few decades, by putting out music with this new band, Phil gets the chance to keep his career and talent fresh by experimenting creatively with new musicians.
"Private Number" featuring David Coverdale of Whitesnake is a slower jam that allows the group to play a relaxed and mid tempo tune that fits well alongside Delta Deep's blistering songs, while introducing the blues influence that the group displays throughout the record. The main highlight of "Number" is the vocals sung by Coverdale and Cook who harmonize together beautifully without overdoing the powerful singing abilities that both vocalists possess.
To close the album, the band includes "Mistreated" which features David Elliott, the front man of Def Leppard. Coupled with Collen's slow guitar wails, we feel Elliott's pain as he sings about being mistreated by an old flame. While the subject has been discussed time and again throughout music history, the sound that we hear throughout the track is rock and roll at its best, with Collen showing off the true extent of his guitar playing, with Debbi singing at the top of her vocal range, showing a talent and ability that we haven't heard before on the album.
Whether you want to label their music blues or rock, Delta Deep has released an LP that will become well loved amongst Def Leppard and hard rock fans for its heartfelt lyrics and soulful playing.
Watch the bands new lyric video "Take Me Home For Christmas" below.