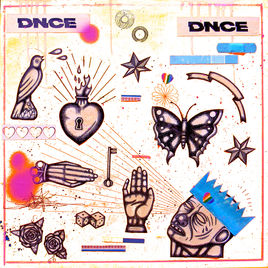 With influences such as Radiohead, Electric Light Orchestra, and The 1975, pop band DNCE has released their second EP People to People, a four-song collection of groovy tracks that will make their audience move and sway, minus the pulsing punch of their 2015 debut EP album SWAAY, and their 2016 full length self-titled album.
Opening with "TV In the Morning," DNCE kick off their first set of new music in two years with a yummy bass line from bassist Cole Whittle, and electrifying vocals from front man Joe Jonas, who continues to be on top of his game, as he leads his funkiest project to date. Drummer Jack Lawless keeps the beat solid on this track, with the same skill he displayed in the Jonas Brothers, proving that they were more than just a Disney band.
Songs such as "Lose My Cool," employs a simplistic beat that allows the group to dive into a minimal pop song that adds an edge to the EP. Closing with "Man on Fire," DNCE's constant colorful vibe has remained the same throughout their short career, and nothing bad can be said about People To People. Hopefully DNCE never lose their inventive streak, as that is what makes them special.
Listen to "TV In The Morning" below.