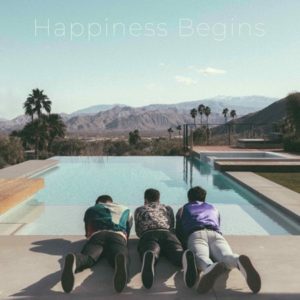 In 2012, the Jonas Brothers announced a comeback at Radio City Music Hall with an announcement of a new album to follow. The brothers from New Jersey hadn't released an album since 2009 with Lines, Vines, and Trying Times, but it seemed like they had turned a new leaf. During their time away, oldest brother Kevin had married and started a family, while Joe and Nick had gone off and tried their hand at new projects – for Nick a blues inspired band called Nick Jonas and The Administration, and for Joe, a failed R&B style album titled Fastlife that didn't quite catch on in the way he hoped. After performing at Radio City, the trio announced what would be their fifth album V, however the new tracks failed to take off with the public, only to be adored by the group's most hardcore fans.
One year later in 2013, the brothers announced their breakup after releasing music they weren't happy with, shows that weren't selling, and a growing tension between them.
The possibility of a new Jonas Brothers chapter seemed all but dead, until the band reunited in Cuba of all places in 2018, where they decided to reform. Fans picked up on the fact that the group was filming something, and they were right. All the filming would be for a new documentary titled Chasing Happiness, a companion piece for their new album Happiness Begins – something new for not only the brothers themselves, but for pop music. While the brothers weren't taken seriously for their talents in their Disney Channel days, they will be now.
Releasing the single's "Sucker" and "Cool" in March, the brothers made their mark with more mature music and lyrics. No longer talking about pizza girls and "poor unfortunate souls" when covering The Little Mermaid for the Disney Channel, the Jonas Brothers are now talking about stumbling out of bars and whirlwind romances, and much to the surprise of the trio's former critics, it works.
Tracks such as "Only Human," officially begins the batch of new music that fans are introduced to, and its reggae influenced sound is different than anything the brothers have released in their career. As Nick has finally lost the squeaky high-pitched vocals a few of the band's previous albums suffered from, he sounds fantastic alongside Joe, who has exercised his vocal chops in the funk-pop band DNCE over the last few years.
Tracks such as "Don't Throw It Away," is an 80's inspired banger, seeing Nick once again taking over the reigns on lead vocals, something he definitely sounds comfortable with. Though their focus on relevancy feels under the radar on Happiness Begins, the trio knew that they had to write great songs in order to appeal to not only their older fans but a new audience who is no longer made up of middle schoolers.
Towards the end of Happiness Begins is the infectious pop track "Rollercoaster," where the band excitedly sings "it was fun when we were young and now we're older," speaking to how much the band has changed since their days of driving around the East Coast choosing to use their gas money to get to the next show instead of getting a hotel. The chorus is soaring, and the band knows exactly what makes their fan base tick: write something true to themselves and the rest will follow. "Comeback," closes Happiness Begins and the electronic inspired tune creates a nice ending to the brothers new and improved fifth record. The brothers have challenged themselves and their fans, while giving their skeptics something to chew on. While Happiness Begins is only the beginning of the new era of the Jonas Brothers, fans can listen intently, okay with the fact that it's no longer unhip to say you're a Jonas Brothers fan.
Listen to "Rollercoaster" below.