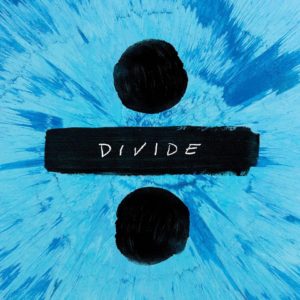 Ever since releasing his debut album + in 2011, British singer-songwriter Ed Sheeran has become known as one of the millennial generations most popular performers, taking the place of singer-songwriters such as Joni Mitchell and James Taylor for the younger generation. Known for writing great songs with a story to tell, Sheeran knows how to unlock deep emotions from his audience, making them relate to what he is going through in his personal life, and making his experiences their own. On his new album ÷, Sheeran reveals bits and pieces of what's gone on in his life since taking a year long hiatus from social media, while also approaching songwriting on this release from a biographical angle, discussing his parents, grandparents, and childhood friends.
Opening with the track "Erasure," we hear Sheeran talking about his father encouraging his dreams of playing music, while also hoping that his biggest influence Damien Rice would be proud of him if they ever were to meet in the present day. Tracks such as "Castle on The Hill" was one of the first songs fans heard several months before the record was released. Bringing a nostalgic edge to his new songs, Sheeran brings fans back to his high school days where he talks about listening to Elton John's "Tiny Dancer," as well as divulging where a few of his close friends ended up as adults. Easily the best song he's ever written, the story line is deeply relatable and shows his depth as a songwriter.
Released as the first single on the record, "Shape of You" gives Sheeran's music a Caribbean feel, and while it may take a few listens to get used to, it becomes a hit after a few spins. While Sheeran has managed to keep his romantic life out of the public eye, he does know how to write a great love song without making it weepy. Constantly being played on major radio stations, this song doesn't grow stale, as it has a timeless quality that builds an immunity for the song to avoid becoming old.
The records seventh song "Happier" goes back to Sheeran's acoustic beginnings and what he sounds best performing with. An excellent songwriter, Sheeran's vocals are something to be jealous of, as we hear more about his romantic relationships without digging to deeply.
Tracks such as "Supermarket Flowers" leads Sheeran's audience back to the impact that his grandparents have had on him. Performed at his grandmother's funeral in front of a small group of family, they were the ones that convinced Sheeran to place the track on the album. Backed by a subtle piano and an acoustic guitar, Sheeran's voice is beautiful and is incredibly heartfelt as he sings about losing a well-loved family member, while reminding fans to hold their own mothers close.
Tracks such as "Nancy Mulligan" are a tribute to Sheeran's Northern Irish roots, as he tells the story of his grandparents trying to build a life together during the second World War, and receiving opposition from their parents to marry as they came from differing Protestant and Catholic families. Written as an Irish jig, while it might not become known as a hit for the ginger-haired singer, diehard fans will be humming the tune for a long while.
Ending ÷ is "Save Yourself," a piano heavy ballad showing off Sheeran's one of a kind voice. By the end of this record, everyone will be jealous that they can't have Sheeran perform for them in person, as his talent comes through every bar on the record. It's clear that no one can do it like Sheeran, and attempting to pass him up will be a difficult task.
Check out the music video for "Castle on the Hill" below.