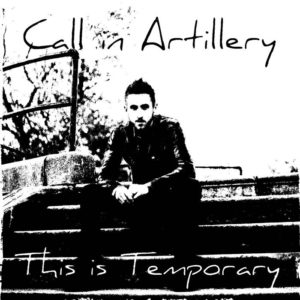 Call in Artillery, a rock act from St. Louis, has released their new album This Is Temporary, an album full of energetic tracks that hip hop fans will also gravitate towards for its brief influence. Call in Artillery began in 2011 with solo musician Chris Schwan when he released his debut EP Sky Harbor. Since then, Schwan has made a name for himself all over the United States and throughout the Mid-West.
Opening with "Fight Night," the album kicks off a bouncy flow that continues consistently on This Is Temporary. With inviting vocals and strong songwriting skills, Schwan has released a quality record that die hard music fans will love.
"I Won't Go" is the records fourth song and it takes Schwan's music into a different direction by experimenting with electronic sounds. Featuring emcee Tommy Dapron who includes confident and smooth rhyming on the song, "Go" is one of those tunes that stick in your head, giving you the urge to listen to it again and again.
"Care Free Living" brings back the pop influences  with a bright and sunny outlook, and we've come to believe that intertwining the hip hop influences into his music works well for Schwan as the audience gets to hear different sides of his creativity.
Closing with the track "Hands to the Sky" featuring rap group PIЯ, a hard hitting closing song that gets to the emotion of the record. While Schwan has released an LP that feels initially breezy, it has plenty of emotion packed underneath its surface, making it a great release.
Check out the opening track "Fight Night" below.