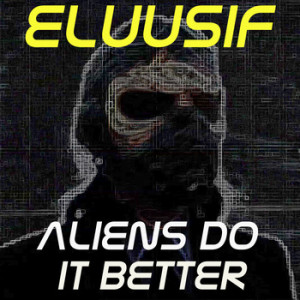 London based electronic producer and songwriter Eluusif will release his latest album Aliens Do It Better EP on April 8th, but fans can stream the EP on Soundcloud and Bandcamp. For music fans that do not like EDM (electronic dance music), they will be surprised at the unique take on music that Eluusif has taken with his songs, and may be a converted fan of the genre after listening to Eluusif. When one arrives at the DJ's official site, it doesn't give any information on Eluusif himself, but gives potential fans a story behind the Eluusif character. Acting as if he is an alien on Earth due to a malfunctioning aircraft, he is from Eluusia, a part of the Feral Youth Star System and is 4008 years old. As to where Eluusif is currently staying he says that President Obama has offered Area 51 as a place to stay. Obviously, this persona is working for Eluusif, as it gives him more of a creative edge. While you don't get a chance to read about Eluusif in his human form, his songs can still stand on their own.
With unique song titles such as "I Don't Wanna Be Your Facebook Friend", and "Justin Bieber Is An Android", Eluusif makes music that is interesting to listen to as he takes samples of female British accents and includes them in computerized songs that sound creative and well thought out. The opening track "Hair Like Skrillex" is a pulsing song that mashes sounds together with a children's choir and a female singer making Eluusif's music have a more creative bent which could rival other EDM artists. While the songs on the EP are well thought out creatively, it would be interesting to see Eluusif write music in another style.
The song "Justin Bieber Is An Android" is a slow spacey track that features samples of a robotic voice proclaiming "Justin Bieber is an Android", while also featuring a British woman saying "its candy for a child" when referring to Bieber and his music. For all of the Bieber haters listening to Eluusif, these statements may seem comical, as Bieber's tunes did in fact seem like candy to his young female fans. "You Should Be Mine" (Crainel Daig Mix) sounds more a techno song more than an EDM track, and the tune's smooth vocals will make it a great play in the dance clubs as its tight beat and bouncy sound make the song an enjoyable listen.
While Eluusif will have his critics who believe that he is only a "button pusher" when it comes to describing his style of music, Eluusif's style makes his songs accessible to all whether they like electronic music or not.