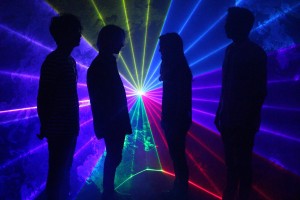 In today's music scene, young California band IIIZ (pronounced "eyes") is a unique act not only due to their ages and the talent that they have, but also their musical style which blends rock music with EDM (electronic dance music). Sounding similar to bands such as Depeche Mode, Nine Inch Nails, and The 1975, IIIZ certainly bring something unique to the table and with the bands new self-titled album, the group are clearly on fire and won't be losing steam any time soon.
"Get Away" opens the bands bouncy record, and from the first notes, it's clear that the group is making a name for themselves as Sen Dog from the legendary hip hop act Cypress Hill makes an appearance on the track. With a bit of darkness and thumping beats, "Get Away" is a strong opener that will certainly give the band more notice. "Color On The Run" appears in the middle of the record, and its bold 80's influence sounds fantastic, even though the member's of IIIZ's weren't born until much later. If we weren't listening to this in the present era, "Color" would have shot right up the charts in its chosen time period, as the group sounds incredibly authentic and confident in their abilities to pay tribute to the era that they have come to love so much.
Closing out IIIZ is the track "I Never Knew MIX1 Voxup", a stirring tune that closes out the record perfectly. Still on the 80's kick that the band introduced us to earlier, the songs pounding energy and passion feels genuine, and is something that we would like to hear more of. IIIZ is clearly on the right path to success, and their record is certainly one that every music fan should pick up.
Check out "Get Away" featuring Sen Dog of Cypress Hill here.