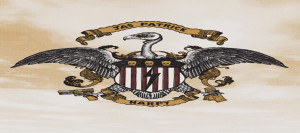 A few words to describe Jas Patrick's new album Inky Ovine would be honest and persistent, and in the hard times, perseverance. The process for recording the album began in 2012, after Patrick released his debut EP Tributaries. With a limited budget to cover expenses, Jas did not know where he would get the funds to record his next effort, though with a little determination and planning, he decided to build a home studio which allowed him the creative freedom to write. After spending two years buying one piece of equipment at a time, production on Inky Ovine finally began in the summer of 2014. The result is a record that is almost a true solo album, with Patrick playing almost every instrument with the exception of bass and pedal steel, which he left up to his friend and producer Brad Bass. While the above attributes can certainly describe the release, fantastic describes the albums sound, and any accolades that it receives are well deserved.
"Harpy" Ovine's opening song is a blues inspired jam that sounds a bit like fellow Nashville band The Black Keys, with their rough blues songs that include a punch that feels raw and moving. With a soulful and strained vocal style, Jas Patrick is certainly a gifted musician, no matter what instrument he happens to be playing. "Little Bug" introduces country influences into the mix, which gives the song more of a Western feel, while softening the albums edges. With vocals, acoustic guitar, and strings becoming the centerpiece of the track, "Little Bug" is the high point of the record as we get a taste of the American South's diverse musical history, and by sampling both blues and country, Patrick presents himself as a well-rounded performer, making him a critical musician in the Nashville music scene.
"Snow Day" Inky Ovine's final number is a jazzier tune that is also a gem. Playing a textured guitar riff over an organ lick that provides enormous flavor and energy, "Snow Day" does not give off the feeling that we think it does when it starts playing. Instead of giving off a cold feeling, the track feels warm and pleasant and while we aren't sure if it will do well as a single, Jas's fans will certainly enjoy it, as it encompasses what Patrick's music is all about: passion, talent, and really taking enough time and care to write the best music possible.
Listen to the album's lead single "Harpy" below.