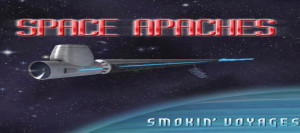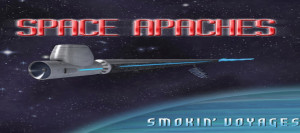 On their latest release Smokin' Voyages, North Carolina band Space Apaches have put out a record full of skill which is apparent from the very first track, however its production and lack of musical organization bleeds through and sticks in our minds far more than the bands musical ability. While the albums intro, filled with space like sounds, doesn't give us much to chew on, its first proper tune titled "Sunrise" shows us the path the band wants to head down though everything sounds very lumped together, which doesn't create the strong tunes that the band obviously want to write. While "Sunrise" gives us more of a rock and roll vibe, "In My Mind" presents a more country influenced sound which doesn't flow well, as we can't figure out where the band wants to go musically.
"Smile" the next track, takes on a slight blues influence with the organ wailing in the background. As the guitar chugs along, it feels like the tune could invoke a lot of singing and dancing during a live set, along with falling in love with keyboardist Aaron Price's mad piano skills, which he demonstrates beautifully throughout the song. While the record has its flaws, "Smile" stands out as its gem.
Songs such as "Love Should Come Easy" bring more of the same rock and roll feel we heard on the above mentioned tracks, and while the skills of each musician are obvious, the music itself starts to become a tad boring at this point and while we have enjoyed listening to the band charge ahead with their energetic attitude, changing things up a bit as far as their sound is concerned, could possibly serve them well for a future release. Overall, Smokin' Voyages feels like a boxed in record that limits itself to only be listened to among a few select music fans that will wholeheartedly enjoy the group's music, while leaving everyone else waiting around for a new album.