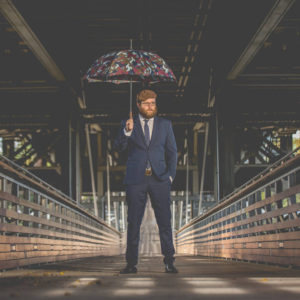 Rough Around the Hedges, the third effort from Chicago's Hood Smoke is a record full of pop and jazz songs that you won't be able to stop singing. Releasing their debut album Laid Up in Ordinary in 2012, the Chicago band has been pushing their name around the local scene as well as nationally. Releasing Rough several months back, we wonder why this group isn't getting more attention with their jazzy vocals and groovy bass lines.
Opening with "Time To Move On," the song opens with a choir of voices, as it leads into a smooth rock-pop tune that becomes memorable right away. With vocalist Sarah Young taking over the lead on this track, her vocals make the song pop with color, as the rest of the group gives "Move On" its relaxed beauty that makes it so enjoyable.
"Loaded Situation" is a blues track with funky guitar riffs and a beat that locks down the songs style, making it one of the most creative cuts on the record. On Rough Around the Hedges, the sounds and musicians gel together well, bringing a breath of fresh air to Chicago. "Anything But The Answer" may remind listeners of Maroon 5's 2002 debut record Songs About Jane for its soft but driving bass lines and an edgy funkiness that the group plays well.
The track which closes out the LP is "Tell That Some," another gentle song that makes the audience feel like they have stumbled upon a real gem, while also discovering a well done record that shines from beginning to end. Every sound and lyric on Rough Around the Hedges meshes well together and we eagerly await the next record from Hood Smoke.
Listen to the record's latest single "Anything But The Answer" below.