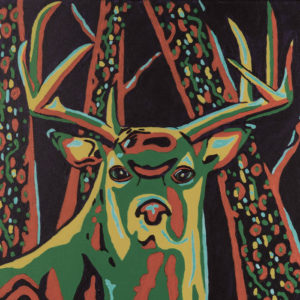 Forming as an acoustic band in 2013, Ontario group Limestone Chorus performs indie-folk tunes that include catchy pop hooks and an immediate sense of the group's enthusiasm for music. Releasing their debut EP Outside Voices under their old moniker Shore Thing, the band has grown into a group of four musicians who constantly push themselves to be better than before.
Writing about a love for human connection and Mother Nature on their latest record Deer Friends, Limestone Chorus has plenty of potential to take their music to the next level. Wanting to make sure the record translated well into a live setting, the band worked hard to make sure that Deer Friends captured the feeling of watching them play live, which they have done successfully.
Opening with "Outside of Time," we hear fantastic vocals from members Jordan Nicolaides and Wilson Hadfield who both take over guitar and vocals. The songs beautiful orchestration is a great way to set up the album, as its happy tone does not waver throughout Deer Friends. Nature inspired track "Into The Fire," is a simple song that takes us away and brings the listener deeper into the album's themes of nature and connection, making us become attached to Deer Friends.
"There I Find You" is an acoustic track with a beautiful chorus, as well as a simple instrumentation that makes the song sound serene. Closing cut "Moon" is a tune that creates a lot of ambience while also making their fans hope that Limestone Chorus will be able to take their music around the world, due to the enjoyment that we feel when listening to their music.
Deer Friends is out now on IndoorShoes. You can watch the music video for "Woods & Water" below.
---
Full band photo: Courtney Michaud Photography