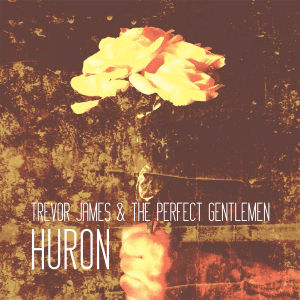 The new album Huron from Ontario band Trevor James &The Perfect Gentlemen is a relaxing folk record that you won't be able to stop listening to for awhile. Full of catchy and emotional tracks, Huron is a record that will grab you right from the first notes. The group released their self titled debut album in 2008, and in 2010 the band released an EP titled Community EP.  While the band only has two main members, they make great use of their small lineup by demonstrating to everyone listening that they can really play as well as writing songs that sound haunting and memorable. Huron opens up with a breezy track titled "A Woman's Pain", which features dark acoustic guitar stylings and wispy vocals, along with a hard and edgy vocal performance from Trevor James, which gives the track an emotional edge that you won't be able to get out of your head. Next, we have "Daylight", a song that has a much happier tone to it than "A Woman's Pain." Bringing in more of a pop influenced tone to the track, Trevor and his band mate Tyson Hiseler on bass guitar, show listeners that they aren't just completely focused on the dark and emotional tracks by changing up the feel and tempo at various points throughout the album.
"Glasses On" is another slightly up tempo track, once again backed by an acoustic guitar, while also being accompanied by bright guitar riffs that make the song shine, though its downfall is a repetitive sound which doesn't make it the most memorable. Once again, we hear strong vocals from Trevor, and their Real Estate inspired sound will be an instant hit with indie and folk music fans to due to the group's tight musicianship and lyrics that tell a story.
"Preacher" is the records strongest song, as it gives the bands sound a slight rock and roll vibe, by adding in subtle electric guitars, with the acoustic guitar still being the music's main focus. On this track, we hear backing vocals from both members, adding an extra layer to the song that makes it feel complete. To close out Huron, "Run Away From It All" is a slower tune that has the same sound and feel as many of the records previous tracks. While it is a good option at the bands live shows for breaking out the lighters and cell phones, "Run…" doesn't have many qualities that make the track special, unless you are already enjoying to the bands folk heavy sound.
Overall Huron is a great record that will be popular among folk and indie fans, as the albums simplicity will draw fans in and keep them listening for a long time to come.