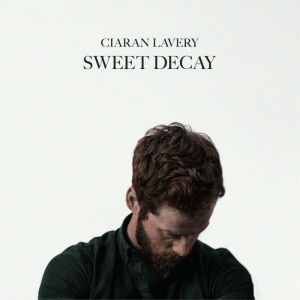 Releasing his debut LP Not Nearly Dark in 2013, Irish singer-songwriter Ciaran Lavery was a virtually unknown musician from Aghagallon, Ireland whose wispy voice won the hearts of everyone in the indie music scene. Now releasing his new third length album Sweet Decay, Lavery continues to climb up the industry ladder as a musician that has that spark for writing long lasting music. While singer-songwriters have since become popular again over the last decade or so with the introduction of artists such as Ed Sheeran, Lavery is another soulful musician that continually captivates his audiences.
Opening with "Everything Is Made To Last," Sweet Decay opens with a mid-tempo song with Lavery's voice peaking through the minimalist production, creating a beautiful burst of sunlight. While summer is going to make its entrance soon, Lavery plays the kind of music that is perfect for nearly every atmosphere, feeling like it fits in every season or situation. "Everything Is Made To Last" creates enough hype around Decay's track listing to get fans excited, as he begins to suck us in with ten other folk inspired tracks.
While introducing fans to this next era in his career, Lavery recently dropped the number "To Chicago," a sleeper track that shows Lavery's growth what's to come. A great addition to a traveling soundtrack, Lavery tells us his experiences with a love he can't bear to leave, and as he speaks of going to see this unknown woman, the song's chorus becomes lodged in our brains.
"Two Days In Savannah" is a ballad that continues to take Lavery's audience on an emotional journey. Much like "To Chicago," fans will feel like "Savannah" is a relatable one, while maybe being able to picture themselves in the song's story line.
Ending with the records title track, "Sweet Decay" opens with a piano as if Lavery is singing directly to whoever is listening. While the track continues the theme of leaving, the tune will go down as one of Lavery's better bodies of work. With only the piano, we get a chance to really hear his vocals for the gorgeous sound it is. With Sweet Decay being a fantastic record, fans will continue to fall for Lavery and his continually stunning work, as we wait patiently for him to become huge.
Listen to "Everything Is Made To Last" below.