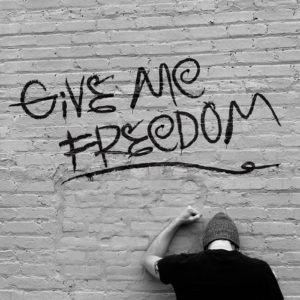 On his debut release Give Me Freedom, Chicago indie musician Luke Cannon has released a raw and real record that is just Luke's vocals and an acoustic guitar, an environment that fans will find familiar as that is how Cannon performs live. In 2014, after he started busking around the streets of Chicago, Luke decided to head into the studio to record demos, though what started out as rough cuts, turned into a full length album discussing themes such as love and politics.
One of the first things we notice about Freedom is how real and raw it sounds both lyrically and musically. Presenting a stripped down version of his music, Luke's whispery vocals are perfect for the type of music that he plays, though the hint of raspiness that appears throughout will suit him well if he ever decides to perform an electric set, as this will add a more powerful element to his songs.
With tunes such as opening song "Time" we get a real feel for Cannon's style and intended direction. Telling fans that he only wants his music to be real and not perfect, says quite a bit about Luke and the image that he wants to portray. A talented musician, he makes great use of a guitar as it is the only instrument on the record, making sure that it fills in the gaps that only a full band recording can fill. Doing this not only demonstrates his skill set, but it also shows variety and a fullness of sound that we enjoy immediately.
Songs such as "The Truth" have the same mellow feel as "Time" and Luke's fantastic voice gives the track the emotional weight it needs to succeed. While his guitar abilities are strong, it is the songwriting that really sticks out on each track, as each cut tells a story that we listen to with interest.
While it's still unknown whether or not Luke will have success outside of Chicago and in the wider indie community with his music, for anyone who enjoys the indie genre, Luke Cannon is one musician who they should not miss out on.
You can stream Give Me Freedom below and purchase the record on Bandcamp.