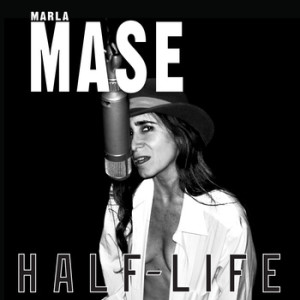 The music of Marla Mase can be described as interesting, different, and slightly bizarre. Half-Life, Marla's latest album which was released on February 25th, is an album full of different genres that would sound good together if they didn't feel so abrupt and in your face. Marla brings a variety of different genres to the table including pop, punk rock, funk, and spoken word. While Mase resides in New York City, she has performed in different parts of the world including China when she was invited to perform at UN Global Peace Day in 2012. A year later, Mase released Speak Deluxe featuring songs that focus on feminist and human rights themes. She has also released a concept album called A Brief Night Out about a woman having an affair and reassessing her life. While all of the above are interesting experiences and albums, Half Life feels a bit too intense to appeal to the average music listener.  
Songs like the album's title track "Half Life" sounds a bit like a k.d. Lang track with its spacey sound and breathy vocals. Overall Marla's vocals sound bland which almost no personality. Her band plays well, but that is the only aspect of the song that stands out. While we hear Marla heading more towards spoken word on this song, it is "Things That Scare Me", where things get slightly bizarre. The song has a funk sound which would sound great, if it weren't for Marla and her distracting vocals. Piling on the spoken word while she channels Henry Rollins, Marla starts off the song by listing all of her life roles from mother to singer, and that she is in a state of shock that all of those roles actually worked out. The leap to playing funk music doesn't seem awkward since Marla obviously enjoys experimenting with different styles, but the only thing holding the song back from its full potential is Marla's decision to do spoken word instead of singing. Sounding like she is trying to be this generation's Lou Reed, her choice to do spoken word for the lyrics does not represent her passion for her music or any talent she may possess, while the various sound clips of torture and telling Marla to breathe after she mentions in the lyrics that she had a panic attack on the road, distracts her audience from listening to the song.
"Gaping Hole" is the only song worthwhile on Half Life. Playing the previously unexplored genre of country, she switches back to singing, and while it sounds better than her spoken word attempts, her voice still does not feel very remarkable. For anyone to enjoy Marla's music to its fullest, they would have to be into musicians who want to do things as differently as possible, and that is exactly what Marla does. Half Life comes across as almost a little too different, and while that might sit well with some people, for listeners who enjoy listening to musicians who want to make a statement in a less discreet way, Marla Mase and her music may not be for you.