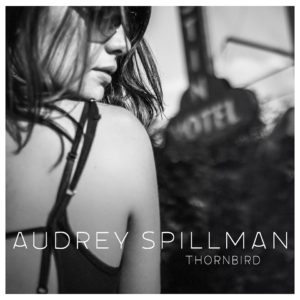 Nashville songstress Audrey Spillman has made her debut with her album Thornbird, a mix of jazz, soul, and R&B that burns with soul and heart. Getting away from performing country suits Spillman well as her smoky and haunting voice makes for an emotional debut.
Opening Thornbird is "Goodnight Goodbye," a song that grabs the audience within the first few seconds, with soft drumming and a silky piano. Spillman's voice sits on top of both instruments, exposing listeners to her stunning voice and great vocal range. Reminding Spillman's audience of Joy Williams from The Civil Wars, an emotional pull is clearly what Thornbird is all about and as she embraces us, we embrace her too. "Pull Me into Your Harbor" is a soft country inspired ballad, paying tribute to the city that Spillman has chosen to settle down in. While the song could not be categorized as explicitly country, its beautiful tone is a nice break from the R&B and jazz sounding tunes that Spillman has placed throughout Thornbird.
"I've Got to Have You" includes the only guest spot on the album, taken by Kris Kristofferson, one of music's most loved country singers. Alongside Spillman's album, the track also appears on Kristofferson latest release Breakaway. While this cut nods again to country music, Kristofferson's voice is not what it used to be, and his gravelly voice doesn't go well with Spillman's.
Thornbird's final song is titled "The End of the World," and is a quiet number that features Spillman's vocals on top of an echoing piano, giving "End of the World" a gorgeous tone that many singers would not be able to pull off.
Audrey Spillman's latest release is a largely error free record, despite it being her first. The only flaw is the choice in guest appearance, as Kristofferson's voice lets the audience know that it is his time to put down the guitar and retire. As for Spillman, she succeeds at being her own artist, while establishing herself firmly within her genre.
Listen to the opening track "Goodnight Goodbye" below.