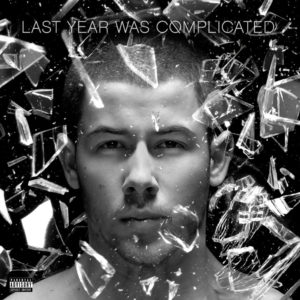 The day his ex-girlfriend Olivia Culpo left him in 2015, Nick Jonas knew he had to start writing new material. Moving to a log cabin in the woods away from the hustle of the city, Jonas sat down to write his most honest and vulnerable work of his career. Releasing his first self-titled album Nicholas Jonas in 2004, he released his second solo record as an adult (which was also self-titled) two years ago, and excited fans ate up the LP, eager to hear what the former Jonas Brother would come up with now that he was free from the chains of the Disney pop music he became associated with. Releasing an R&B and pop inspired record showed that Jonas had come a long way as a musician and performer.
On his second album Last Year Was Complicated, Jonas provides fans with a body of work influenced by a breakup and moving forward, while also writing songs that exude longevity, with Nick illustrating his talent well, as he knows what types of songs suit his vocals. On this effort, Jonas brings in artists such as Tove Lo, Big Sean, and Ty Dolla $ign to round out several of the songs, giving the record a collaborative feel. Admitting in the album documentary Last Year Was Complicated, exclusively being released on streaming service TIDAL, Jonas admits that there is a chance that he could fall flat on his face with this new album, even though he feels proud of the tracks he has composed. Even after only one spin, Nick's fears become diminished as he has dropped a collection of music that connects with everyone listening.
Opening with the saucy track "Voodoo" Nick sings on top of a beat that steers the song towards its greatness, while singing about a woman having a hold on him. A fantastic opening track, "Voodoo" immediately makes Last Year…an addicting listening experience, and while we aren't sure if Jonas will let listeners down by inserting filler tracks at some point during the record, "Voodoo" gives us the assurance that Nick has potentially produced his strongest work to date.
"Champagne Problems" follows and its disco inspired style surrounds an overdubbed chorus that you won't be able to forget. It's at this track, that we realize how much pop really suits Jonas, and while he is great at performing music in the style of the Jonas Brothers or his former side project Nick Jonas and The Administration, Jonas has found a home in the often syrupy and cluttered pop genre, giving his fans an LP that sticks with them.
The records next track and current single "Bacon," introduces listeners to the third and final guest spot on Last Year, with the tune featuring Ty Dolla $ign. A minimalist track, Jonas sings about being drama free, with Ty Dolla $ign contributing a verse with both singing and rapping that fits the song well.
To close out Last Year Was Complicated, we hear a song titled "Comfortable", a slick pop song that shows off Nick's voice, while reminding fans that he has made a successful and flawless release. While the record doesn't take a ton of chances by evolving its sound, Nick Jonas has become his own man who is basking in his newfound creative freedom, which allows him to tell fans what's on his mind without any repercussions.
Watch the music video for "Bacon" below.