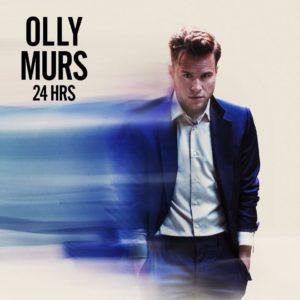 In 2009, when British vocalist Olly Murs auditioned for the UK X Factor, judge Simon Cowell told Murs that saying "yes" was one of the easiest things he had ever done. Since then, Murs has released several albums and has become known throughout the UK, though the same cannot be said for America. With a breezy pop style that may remind some of a youthful Michael Jackson, Murs writes feel good pop songs that are slick and honest. On his new album 24 Hours, he gives fans 16 soaring tracks that show off Murs and his vocal ability while also demonstrating that he wants to rise to the top of the American market- a region that he has failed to crack.
Opening with "You Don't Know Love," this song is perhaps the most radio friendly single Murs has released in his short career. With a vibe like the Michael Jackson classic "Thriller," Murs' is seductive vocally, while singing on top of a synth heavy beat.
"Grow Up" the records second single, is a reminder of Murs' earlier music, particularly on his self-titled debut. With a carefree acoustic guitar and Murs urging listeners to turn up the music, the song feels appropriate for the 30-something, as he is still young enough to recognize and remember the challenges of moving from one age to another, while bringing along fans that are experiencing the same things right alongside him.
On "Love You More" Murs hits us with a punchy beat that tells his audience that he is ushering in a different era, by performing more dark sounding cuts, rather than the happy go-lucky material he released in the early years of his career. While it is unclear whether he is trying to attract a new audience with 24 Hours, he has the right mindset if he wants to engage new fans, though longtime listeners may be worried that Murs may be losing his pop flare. On songs such as "That Girl," Murs croons, "there's a girl that I let get away, it's my fault because life got in the way" over a piano, which only adds to Murs and his flawless vocal ability, something that hasn't wavered in the short time he has been performing.
To close, Murs leaves us with "How Much for Your Love," a gracious song that allows Murs and his voice to synchronize together with the instruments perfectly as he dives into a relationship gone wrong. While the songs on 24 Hours don't quite have the pep as his previous releases, it hints to a new direction and musical desires, though there are moments where it feels like some fans are getting left behind for something bigger, though only time will tell if this is true.
Watch the music video for "Grow Up" below.