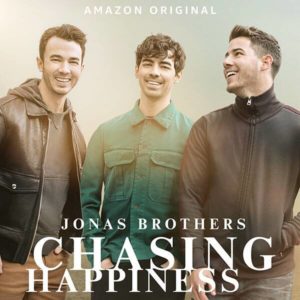 When watching a documentary of a former Disney band, you probably wouldn't expect it to be good, but it the case of the Jonas Brothers new documentary Chasing Happiness, it's a wonderful testament to the brothers humble beginnings and hard work they had to endure in order to achieve the worldwide success that came with being tied to a children's television channel. Leading up to the release of Happiness Begins, the brother's new album, Chasing Happiness serves as the perfect companion piece as the film discusses where the band has been and where they are going.
Filmed in various spots around the world over the course of a year, fans knew something was up when the band was spotted filming around New York early last year. Released exclusively on Amazon Prime, Chasing Happiness includes old home videos and the brothers and their inner circle talking about their beginnings and how they handled reaching fame quickly.
Taking fans through their early years, fans are told the tale of how youngest brother Nick got his start on Broadway and how older siblings Joe and Kevin eventually followed suite performing in off Broadway productions and commercials. Being so close to New York City, the Wycoff, New Jersey family recounts an often exhausting performance and rehearsal schedule, with the brothers being unaware of how much their parents Kevin Sr. and Denise scarified to make their dreams a reality – until much later, when they had finally made it. During a particularly low point in the brother's career, they had just been dropped by their first label Columbia Records and their father was removed from his position as the pastor of their church, located only two doors down from the family's home. Not being able to tell anyone in their church congregation that the brothers had been signed to a secular label was particularly souring for the family, though this lack of progress would not last long. Writing the majority of their 2007 smash self-titled album in a rented house in Little Falls, New Jersey the three teenagers struggled to create a sense of normalcy in their home, as they continued to tour up and down the East Coast.
Once Disney came calling, that was it. The band was on a role, creating a literal empire that completely hinged on the success of teenage girls and their raging hormones. While the group was filming the well-known Disney Channel film Camp Rock, the band was oblivious to how fast the band was growing in America as the movie was filming four hours outside of Toronto. After playing to thousands of people at the Texas State Fair and causing a traffic jam stretching to Oklahoma, the band knew that things would never be the same again. As Kevin Jr. tells us in the film "we found out that day just how big the band had gotten."
With each subsequent release, the band found success until it all came crashing down in 2012 with a failed comeback. While the band hadn't released new music since 2009, the brothers weren't happy with the music they had written and decided to take an indefinite hiatus. With solo careers, children, marriage, and coming back together, the band highlights what makes their band so special towards the middle of the film. As their manager states at this point, the band was a positive force that was more than just the music, it was the band as a whole. While they were squeaky clean for appearances, it was during this chapter of their career, that they all knew they wanted something more.
Perhaps the most moving scene in the whole movie, is when all three brothers get together for the long discussion of what mistakes they made, and what they shouldn't have done, while turning all of it into a drinking game. As they all take a swig of alcohol, they admit that they should not have done a second season of their Disney Channel show JONAS as it forced them to act like teenagers as they entered their 20's, while Joe and Nick fully admitting to Kevin that towards the end of the band's first run, they felt his musicianship had slipped. Watching Kevin visibly hurt, it's the kind of rawness that fans haven't seen before and something the group wanted to include in their documentary, as they had always gone for the fluff style movies, by not always showing the full picture, though thankfully Chasing Happiness has allowed them to pull back the curtain.
With both Chasing Happiness and their new album Happiness Begins, the band has dropped two bodies of work that fans will eat up. While previous Jonas movies were strictly marketed towards the groups fan base, anyone who watches this now, will want to check out the band's new chapter and new beginning, as the Jonas Brothers are no longer the kiddie band.
Read our review of Happiness Begins here.